Herzig, Rebecca
Rebecca Herzig
207-786-6335
Gender and Sexuality Studies
Professor
Pettengill Hall, Room 209
African American Studies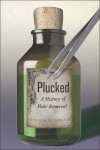 Rebecca Herzig holds the College's only full-time faculty appointment in Gender and Sexuality Studies. Her research and teaching dwell on the historical intersections between race, colonialism, gender, sexuality, labor, science, technology, and medicine.
Her essays on these topics have appeared in Academic Medicine, American Quarterly, Feminist Theory, Lancet, Radical History Review, and Science, among other scholarly journals, and in online forums such as Wonders & Marvels and Salon. Her most recent monograph, Plucked, was named a "best book of the year" by the Economist magazine and by the Science Friday radio program. She also co-edits, with Banu Subramaniam, the interdisciplinary book series, Feminist Technosciences.
At Bates, Professor Herzig is a contributing member of the Programs in African American Studies and American Cultural Studies, and regularly advises theses in AAS, ACS, and History.
Prof. Herzig is on leave during the Academic Year 2017-18.