---
Rania Kassab Sweis
Search Returned No Results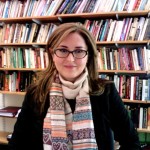 Ph.D. in Anthropology from Stanford University; M.A. in Anthropology from Stanford University; B.A., Summa Cum Laude, in Cultural Anthropology from the University of California at Irvine.

Research Areas:
Medical anthropology; humanitarianism and human rights; cross-cultural studies of gender, family and sexuality; poverty, structural violence and social suffering; Egypt; the Middle East and North Africa; and the anthropology of Islam. Rania has conducted ethnographic research in Egypt, France, Lebanon and a Muslim-American community in Southern California.
Current Projects:
Rania is currently working on two research projects.  The first is a book manuscript on global health interventions taking place in Egypt with vulnerable young populations including homeless children and village girls.  Based on over two years of ethnographic fieldwork conducted in Egypt and France, this study demonstrates how transnational discourses and practices associated with children's rights and health shape young subjectivity, constituting a new politics and ethics of childhood and youth in Egypt.  Her second and newest research project centers on transformations in Egypt's healthcare system after processes of neoliberalization, and what this restructuring means in the everyday lives of medical professionals and Egyptian citizens, particularly after the ongoing events of the revolution.
Classes:
---
Contact Us