Arts Crawl
The Bates Arts Collaborative, in collaboration with students, faculty and staff, annually presents the Arts Crawl, a celebration of student creativity in the performing, literary and visual arts. Typically held on a Friday night in January, participants enjoy a smorgasbord of exhibits, performances and activities across the campus.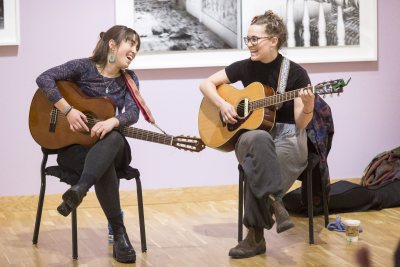 While a visitor who wants to stay in one spot will enjoy the Arts Crawl, the event is designed for roaming, taking in a little of this and a little of that. "It's a sort of tasting platter of the arts scene at Bates," says Nick Auer '15, a senior from Fairfield, Connecticut, who in the past both performed in and helped organize the event.
The Crawl, adds Max Pendergast '15, "is one of the few opportunities for all of these different arts groups to work together. You can have a Robinson Players piece followed by a dance piece, followed by improv, followed by a cappella. Simultaneously there's visual art across campus.
"It's one of the opportunities for people to experience them all at the same time, rather than going to one Rob Players production or one Bates Arts Society exhibit."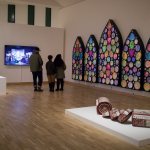 ARTS CRAWL 2017
Bates artists blanket a wintery campus, and suddenly it's warm and wonderful.
Check out the full Picture Story from Arts Crawl 2017!
Photos from previous Arts Crawl events
Photos by Phyllis Graber Jensen, Sarah Crosby, Michael Bradley, and Josh Kuckens / Bates College