Barnaby S. Donlon '93
・JPN 101 – 402, East Asian Studies Major
・JYA at International Christian University, Tokyo ('91 ~ '92)
・Thesis in JPN, "俳句から人情まで:夏目漱石の文体変化 " (The stylistic development of Natsume Soseki, from Haiku to Ninjo)
・Other Bates experiences: Varsity Swimming ('89-'90, '90-'91), Bates Student news reporter ('89 -'93), Campus tourguide ('92-'93)
・I was fortunate to land a job on the JET Program during my senior year at Bates, and I worked as a CIR (Coordinator of International Relations) for three full years ('93-'96) for the Yamaguchi Prefectural Government.  For so many reasons this was the dream job for me.  There was so much variety and challenge to the work that it was always fun and interesting and I felt like I was able to learn a lot about Japan and develop in many ways as a person.
・Needless to say, the JET Program was a lot of challenge and fun.  And, I think one important thing to remember when doing anything is KEEP YOUR SENSE OF HUMOR.  There were so many times when I walked into a room in Japan and you could cut the tension in the air with a knife.  But, whenever it was appropriate to say something funny, I would do it.  People would laugh and the atmosphere would change completely.
・Since the JET Program I have been enrolled in a graduate school here in Boston.  In May ('99) I was awarded my master's degree from The Fletcher School of Law & Diplomacy (a joint program of Harvard and Tufts).  Presently (July, 1999) I am looking to start my own business, which isn't Japan-related, but started out to be: I was in Kobe last summer when I discovered a new business opportunity.  Currently I am seeking investors to inject some seed capital so I can develop a new technology and hire a sales force.
・My study of Japanese has really paid off and I think I will always have opportunities to use it personally and professionally.  Japan has really become something of a second home to me, and I do miss it when I am not there.  My advice to anyone looking for a little motivation is to pick up the phone and give me a call.  I would love to share my enthusiasm
for the program at Bates and help students think about the role of Japanese in their futures!
・Lastly, let me say that I wouldn't have gotten anywhere without the help of professors Strong, Ofuji, and Hirai.  They were like a wellspring of Japan-related knowledge that I tapped into during my years at Bates.  They gave excellent guidance, were totally committed to my intellectual development, and continue to be good friends of mine. "Kokoro yori fukaku kansha shite orimasu."
Barnaby
Donlon '93 from July '93 to '96 in Yamaguchi-ken
"Working at the International Division (my daily
office)"
"Interpreting for a dignitary visiting Yamaguchi"
"At a beach (cleaning up event sponsored by an
organization I served as leader of.) "
"A school visit to Ouchi Middle School
in Yamaguchi"
"Speaking (& singing) at the closing ceremony of
the American Culture cause –a 6 week lecture series I taught in Yamaguchi"
・For me, a typical day as a CIR was as follows:
8am – off to the office (5 min. bicycle ride to
the Kencho)
8:30 – Start work with a strong cup of green tea;
put the finishing touches on the monthly English newsletter I edited and
desktop published
9:30 – Handle a phone call from another JET concerning
a communication breakdown at his school.  Listen to his supervisor
and set up a meeting time for later in the week
10:00 – Head upstairs to the Governor's office to
interpret for a delegation from Papua New Guinea.  Their E-J interpreter
fails to make it, so I am asked to interpret for the Governor and the group
(English to Jpn. and Jpn. to English)
11:30 – See the delegation off and head back to
the office to sketch out a speech for the afternoon.
12:30 – Quick teishoku lunch break in the cafeteria
upstairs. Catch up on my newspaper reading and chat with Mr. Fujimura in
English.  Neither of us have ever failed in our attempts to make the
other laugh.
2:00 – Off to give a speech and visit a middle school
in Ouchi.  The kids are excited to learn about America, and only know
a few words in English so far.  I pretend to speak only English for
the first 30 seconds, and the place explodes.  Then I transition to
Japanese and they all smile as I tell them about my most recent blunder.
After a few minutes I try to get at something important for them to understand:
they must be curious about the world and have the courage to challenge
themselves and broaden their own worlds.  Create and seize the
opportunities!
4:00 – Now I'm a little wiped out.  Time to
take a 5 minute nap outside by the waterfall next to our office.
4:15 – Another cup of coffee and I'm hacking away
at some legal documents the Prefecture has prepared to have translated
into English: the owner of some land they need to reclaim in Yanai has
emigrated to the US, and they need to reach an agreement on an appropriate
transfer price.
5:00 – Uh oh!  Only 30 minutes to scramble
in preparation for tonight's community class in Shimonoseki.  Tonight's
lecture and discussion is on Gender and Racial equality in the US and my
25 students are looking forward to a lively discussion about civil rights.
Hope my vocabulary is sufficient!  Better look up the word for anti-defamation.
6:30 – Class starts and runs to 8:30.  (3 other
CIRs are teaching classes at the community center, too: Korean, Chinese,
and German Culture Classes)  The lecture and discussion go smoothly
and we end up with more to talk about than we have time for.
9:00 – Starved, we grab some hot noodles at Nagasaki-Chamen.
I order the "A-Setto, Nomihodai tsuki."
10:30 – Return home and turn on some jazz, shower,
read my mail.  What a
day!
・Needless to say, the JET Program was a lot of challenge
and fun.  And, I think one important thing to remember when doing
anything is KEEP YOUR SENSE OF HUMOR.  There were so many times when
I walked into a room in Japan and you could cut the tension in the air
with a knife.  But, whenever it was appropriate to say something funny,
I would do it.
People would laugh and the atmosphere would change
completely.
Articles that Barnaby's essays are introduced.
A book, "JET 環境保護運動ガイド(The
JET Environmental Action Guide), "
Barnaby edited.  It is wrtten in English &
Japanese.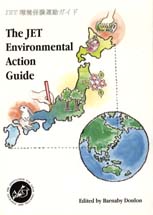 Chapter
1: The Main Issues
World Environmental Problems; Global Warming; Air
Pollution; Ozone Depletion; Desertification; Hazardous Waste; Acid Rain;
Decreasing Wildlife; Water Pollution; Rainforest Destruction; Overfishing;
Energy Resources & alternatives; etc.
Chapter 2: Individual Action
Re-thinking our Lifestyle; Why Save Resources?;
Vegetarianism; Green Shopping;
Chemical Substitutes; Buying the Right Soap;
Say "No!" to Styrofoam; Saving Energy & Water; Recycle – Why &
How; Putting Out the Trash; Garbage Separation; etc.
Chapter 3: Community Action
Global Awareness Games; Organizing a Beach-Clean-up;
Recycling Bingo; Environmental True & False Quiz; Ecological Awareness
Check-up; Stamp & Telephone Card Collections; Profiting from Trash;
How to Make Natural Soap; Making Postcards from Milk Cartons; Exploring
the Internet; etc.
**NOTE
To order your copy for 2,000 yen , contact:
????