Events
There are many opportunities to experience Japanese culture on campus, and to use Japanese language outside of language classrooms. Find more about event updates on "Japanese at Bates" Facebook Group.

Language Table: Thursdays 5-7pm, Commons 226
Any speakers of Japanese (whether or not you study Japanese at Bates) are welcome to come and have conversation in Japanese!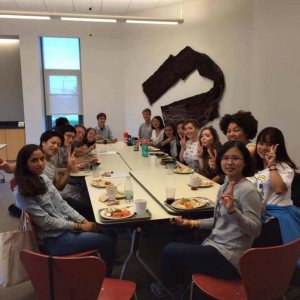 Japanese Cultural Events
New Year おもちつき (Rice-cake pounding) is an annual event to celebrate new year and try making rice cakes.
"Arts of Geisha" and "Japanese Tea Ceremony" lectures and workshops were held in March 2016 with Yuko Eguchi '03. Read about the events on Bates News and Picture Stories.
Class cooking
Japanese Calligraphy
Sangai Asia Night is held by a student organization Sangai Asia in late January. In 2016, Sarah Curtis '18 sang from Spirited Away, and Satoshi and Ariel told a Japanese traditional story in kami-shibai style.
Poetry Reading
Japanese Language Contest (Speech and Essay)
Japan-related Clubs
Taiko Club
Anime Club
Sangai Asia
Past Events