Strong, John S.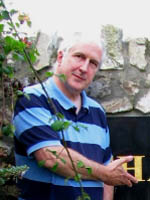 John S. Strong
207-786-6094
Religious Studies
Charles A. Dana Professor
31 Frye Street
Asian Studies
John Strong came to Bates in 1978, and holds a Ph.D. in History of Religions from the University of Chicago, an M.A. from Hartford Seminary Foundation, and a B.A. from Oberlin College.
His research program is in the area of Buddhist Studies, with a special focus on Buddhist legendary and cultic traditions in India and South Asia. He is the author of numerous articles and of The Legend of King Asoka (Princeton, 1983), The Legend and Cult of Upagupta (Princeton, 1992), The Experience of Buddhism (Wadsworth, 1995), The Buddha: A Short Biography (OneWorld Publications, 2001), and Relics of the Buddha (Princeton, 2004).  He is currently working on a book on miracles in the Buddha's biography.
His teaching includes courses on Buddhism, and on other religious traditions of India, China, Japan and Tibet. During his time at Bates he has taken students to India on a short-term, has been the director of the ISLE program in Sri Lanka and co-director of two fall semester programs in Tokyo. He has taught for the Associated Kyoto Program, and been a visiting professor at the University of Chicago, Princeton, Stanford, and Harvard.