Hiss, William C.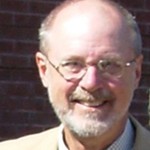 Search Returned No Results
New Search
Bill Hiss is a Senior Leadership Gifts Officer and a Lecturer in Asian Studies. He periodically teaches a First Year Seminar course, "Literature through Cataclysm," in modern Russian, Japanese, Vietnamese, Indian and Somali fiction and film, and serves as an academic advisor to the students in his FYS course.
Bill has served at Bates since 1978, variously as Dean of Admissions and Financial Aid, a vice president supervising several offices, and in recent years as a Leadership Gifts Officer in Advancement.  Bill took his undergraduate degree with High Honors in English from Bates, with a junior year abroad at the University of Glasgow in Scotland.  At Harvard Divinity School, he took a master's degree in social ethics, and earned an MA and Ph.D. in English from Tufts.  He has also been the principal researcher on Bates' policy on optional standardized testing in Admissions, and is currently the principal investigator for a two-year, foundation-sponsored study of about 32 other colleges and universities with admissions policies to allow one form or another of optional standardized testing.