Will Ambrose – Marine Ecology
Ecosystem and Community Ecology, and Climate Change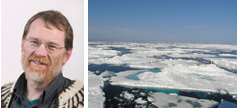 Professor Ambrose's research interests focus on understanding processes influencing the structure and function of marine benthic communities. He is particularly interested in how benthic communities might respond to climate change. He also uses the environmental information stored in the hard parts of marine organisms to reconstruct past environments and examine Holocene climate change. His current research also involves invertebrate fisheries biology, focusing on clams and bait worms. His field work takes place in Maine and across the arctic and subarctic.
Selected Publications
Ambrose, W.G. Jr., M. L. Carroll, M. Greenacre, S. R. Thorrold, and K. McMahon. 2006. Variation in bivalve growth in a Norwegian high-Arctic fjord: Evidence for local- and large-scale climatic forcing. Global Change Biology 12:1595-1607.
McMahon, K.W., Ambrose, W.G. Jr., Johnson, B.J., Sun, Ming-Yi, Lopez, G.R., Clough, L.M. and Carroll, M.L. 2006. Benthic community response to ice algae and phytoplankton in Ny Ålesund, Svalbard. Marine Ecology Progress Series 310:1-14 [Feature Article]
Sypitkowski, E. William G. Ambrose, Jr., Curtis Bohlen, Tom Atherton, and Joe Warren. 2009. Catch Statistics in the Bloodworm Fishery in Maine.  Fisheries Research. 96:303-307
Selected Mentored Theses
Antell, Edmund 2011. Growth rates and diet of the commercially important baitworm Glycera dibranchiata (bloodworm) in Maine.
Henkes, Gregory 2008. Mineral and isotopic geochemical evidence for environmental change in the shells of the smooth Greenland cockle, Serripes groenlandicus, from the Barents Sea.
McMahon, Kelton W. 2005. Impacts of changing food supply on Arctic benthos: Digestibility of ice algae and phytoplankton.