Mary Hughes – Safety Coord.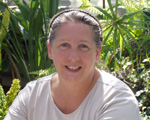 Mary E. Hughes

207-753-6942

Biology

Lab Coordinator for Animal & Plant Care

Safety Coordinator for Carnegie Science

Carnegie Science Hall, Room 410
---
I love animals and working with plants, so you can see why I love my work here at Bates. I am also the Safety Coordinator for this building. I deal with EPA and OSHA regulations, making sure Bates College is in compliance.