Fall 2004
Larry Keigwin
Larry Keigwin has choreographed and performed for Broadway, Off-Broadway, and numerous Dance Companies. He is the Artistic Director of Keigwin + Company and the Creator of Keigwin Kabaret. From 1997-2000, he was the Associate Artistic Director of Dendy Dance & Theater, and received a Bessie Award for his performance in "Dream Analysis". Keigwin's Choreography has been presented by The American Dance Festival, Bates Dance Festival, Summerdance Santa Barbara, Joyce SoHo Presents, California Institute of the Arts, Zenon Dance Company, NYU/Tisch School of the Arts, Kaatsbaan International Dance Center, and various other theaters around the country.
Alison Oakes
Alison Oakes holds a BA in Anthropology and a Secondary Concentration in Russian Language from Bates College and a MA in Dance and Dance Education from Teachers College, Columbia University. She is a faculty member at Iona College, where she is also the resident guest artist for the Iona Dance Ensemble. She is a teaching artist for New York City Ballet's Education Department, bringing ballet, creative movement and choreography to public school children. Alison is the co-founder and director of Summerdance Intensive in New Jersey, which is a two-week dance program for high school students. She has co-produced performances at Merce Cunningham and Williamsburg Art Nexus (WAX). Her work has been presented in New York at 92nd St. Y, Joyce Soho, Riverside Church, Merce Cunningham Theater, WAX, Columbia University and Iona College. Most recently she took part in a performance in Bergen County, NJ which was featured on Dance Vistas, a show on NY and NJ public television.
SHAMOU
SHAMOU has been teaching music to people of all ages and abilities since 1990. Trained at Berklee College of Music, he teaches group workshops and individual lessons in the hand drumming techniques of the African Diaspora and the Middle East; stick technique for Latin and jazz percussion and drum set; rhythmic studies in world music, music theory and vocal music. Past residencies include Music Director for the Bates Dance Festival's Youth Arts Program; ongoing workshops at ODC/San Francisco and Alonso King's Lines studio; Harvard and Boston Universities, Wellesley College; the Boston area public schools (K-12); and ongoing independent workshops in New England and the Bay Area.
Nugent+Matteson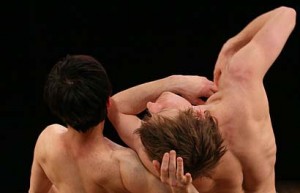 In 2004 –2005 Nugent+Matteson have commissions in Virginia Beach, Hollins University, Rhode Island College, a creative residency in Portland Maine, and will be presented by the Tangente Theatre in Montreal. http://www.nmdance.org
Jennifer Nugent
Jennifer Nugent is originally from Miami, Florida, where she had the pleasure of performing with Gerri Houlihan & Dancers and Mary Street Dance Theatre. She shared artistic direction with Barbara Sloan in Duo Da Da Dance Theater. While in New York, she has worked with Shen Wei, Lisa Race, Nina Winthrope, Yin Mei and Daniel Lepkoff. She has been working with David Dorfman Dance since 1998. Her own work has been presented at Danspace Project's Food for Thought at St. Mark's Church, Dixon Place, SUNYPurchase, Ohio State University, Dance Space Center's Raw Materials, Moving Current (Tampa, FL), Manhattan Theatre Source, the Thalia Theatre at Symphony Space, and George Washington University. Jennifer teaches widely. Most recently she was a guest artist at Dance Space Center, NYC and The North Carolina School of the Arts. Jennifer has also taught at Hollins University, George Washington University, Ohio State, and NYU Tisch School of the Arts. She is currently on the faculty of the American Dance Festival in Durham, NC.
Paul Matteson
Paul Matteson received a New York Dance and Performance Award (Bessie) in 2002 for performance. Originally from Cumberland, Maine, he graduated from Middlebury College where he studied with Penny Campbell, Andrea Olsen, and Peter Schmitz. He has been a member of David Dorfman Dance since 2000. He also works with Race Dance, Peter Schmitz, Creach/Company, and Keith Johnson. His choreography has been shown in New York at The Thalia Theater at Symphony Space, Dance Theater Workshop, The DanceNow Festival, Joe's Pub, Dixon Place, Judson Church, St. Mark's Church and in Vermont at Middlebury College and Flynn Space. He teaches regularly at Dance Space Center and he is on faculty at The American Dance Festival. He has been a guest artist at Middlebury College, The University of Utah, and Hollins University. His piece, "As you are," created on Middlebury College students, was selected to be performed at the National ACDFA at the Kennedy Center in June, 2004.