Gregory Maqoma '09
The Bates Dance Festival Presents Gregory Maqoma:
Residency: October 11-17, 2009 Performance: 8:00pm Friday, October 16
Gregory Maqoma, Vuyani Dance Theater performing Beautiful Me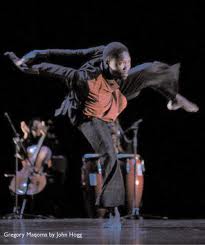 In Beautfiul Me Gregory Maqoma, one of South Africa's leading choreographers, attempts to define, redefine and profess his own identity in relationship to history, humanity and nature. Maqoma begins with movement, text and music contributed by three master choreographers who have had a great influence on him: Akram Khan, contemporary Kathak: Faustin Linyekula, visual dance-theater: and Vincent Mantsoe's Afro-Fusion. Through layering these distinct and diverse styles with his own unique lightness and humor. Beautiful Me becomes a living self-portrait and provocative exploration of kinetic African identity.
Accompanied on stage by four exceptional South African musicians (violin, cello, sitar and percussion) simple lighting and set design, Beautiful Me speaks honestly and directly about the process of finding one's authentic voice.
BIO
Gregory Maqoma is founder and artistic director of Vuyani Dance Theatre in Johannesburg, South Africa. He received his training both in South Africa and In Belgium. As a Choreographer, Teacher, Dancer, Artistic Consultant and Creative Director, he has taught and presented work in the Netherlands, United Kingdom, Sweden, Switzerland, Mexico, Finland, Burkina Faso, Austria, Nigeria, France, Senegal, Norway, Belgium, Germany, US and South Africa. He has won several awards, accolades and nominations in South Africa and Internationally including FNB Dance Umbrella Choreographer of The Year, Standard Bank Young Artist of The Year, Rolex Mentor and Protégé Award Finalist, Daimler Chrysler Choreography Award Finalist, Gauteng MEC Award for Choreography. Maqoma also serves as Associate Artistic Director for Moving Into Dance and as Artistic Director of The Afro Vibes Festival in the Netherlands. He was the Creative Director of Gauteng Carnival 2007. He is the founder member of MUiSA (Multi Arts Initiative Of South Africa). He teaches at several institutions in South Africa, Europe and US.
Visit Greg's site for more info.  http://www.vuyani.co.za/