Kwame Ross and Michael Wimberly '11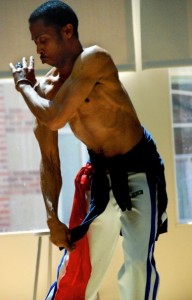 Kwame Azalius Ross Artist, Musician, Choreographer, Director, As a performer he has worked with Africa 1 Dance Theater, Children of Dahomey, Viva Brazil, Forces of Nature, Song and Dance Company of Mozambique, the National Dance Theater of Nigeria, and Urban Bush Women. His leadership spans as former Associate Artistic Director of Urban Bush Women, to former Cultural Ambassador of Egypt, to presently, Founder and Artistic Director of KAR Dance Project. Mr. Ross has been commissioned by numerous organizations Long Island University, Florida A&M University, Tulane University, Lincoln Center Festival, Carnegie Hall, St. Marks Church Dance Project, Riverside Church, Cutno Artist Group, and Cairo Opera House Modern Dance Theater. Kwame A. Ross' work is based on the belief that every soul can express itself, when given the moment and platform to voice their opinion. It is his intention to provide such platforms for expression for freedom of mind, body and spirit. Mr. Ross has studied extensively in four continents, giving a dialogue of expression of unlimited expression.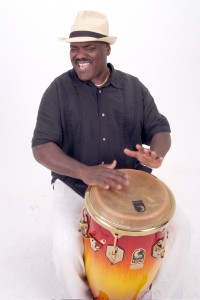 Michael Wimberly, classically trained percussionist and composer, holds both a Bachelors of Arts Degree in Music from the exclusive Baldwin Wallace Conservatory, and a Masters Degree in Music from the prestigious Manhattan School of Music. But it is his study of West African percussion that makes his compositions most unique and sets both audiences and critics on fire. Michael has defied categorization by mixing textures, integrating European, ancient African rhythms, and modern American music creating a muse of sound that is as electrifying as it is multicultural.
He has recorded, performed and toured with many jazz artists such as, Charles Gayle, Jean Paul Bourelly, William Parker, Steve Coleman's 5 Elements, David Murray Octet, Teramasa Hino Quartet, Onaje Allen Gumbs, New Music Pioneer Paul Winter Consort, John McDowell and Mama Tongue, Funk Legends George Clinton and the Parliment Funkedelics, The Boys Choir of Harlem, Berlin's Rundfunk Symphony Orchestra, Vienna's Tonkuntsler Symphony Orchestra, Yakima Chamber Orchestra, Rock Icons Vernon Reid, Henry Rollins, Blondie, Mickey Hart and R&B sensations D'Angelo and Angie Stone.
Michael's compositions appear in such luminary dance companies as Urban Bush Women, Joffrey Ballet, Alvin Ailey, Philadanco, Forces of Nature, Ailey II, Complexions, Ballet Noir, Alpha Omega, Purelements and The National Song and Dance Company of Mozambique.