First-year Info
So you think you want to dance at Bates!
Dear First Year Dancers and Soon-to-be Dancers,
This page is to help point you in the direction of the kind of dancing you want to do in your first semester at Bates.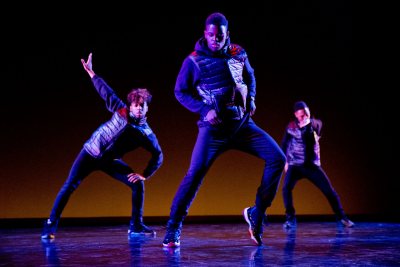 I am happy to answer any emails about dance and advise you about courses before you get to school (rboggia@bates.edu).  Below is a listing of the courses we have on this Fall and other opportunities in dance outside of the courses we offer.
First you should join the dance list (dance@groups.bates.edu) which is where all of the news and announcements are posted.
Also like the Facebook pages Bates College Dance and Bates Dance Club so you can hear about upcoming workshops and dance events, and communicate with others about what you are doing.
COURSES IN DANCE
For beginners (or secret dancers)
We have entry level classes in modern, ballet, jazz, hip hop, and Pilates, as well as a course in dance improvisation that is open to any level of mover. We also have an entry-level choreography class that has both dancers and non dancers in it. This Intro to Composition course is the entry point to our composition series, which is right at the core of our program. There is also a FYS called What is Performance, taught by department chair Carol Dilley. It will be about all kinds of live performance including dance and is open to performers and non performers alike. This is a great start to college thinking about performance.
For experienced dancers
We have intermediate and advanced courses in modern and ballet and advanced students can also take any of the mixed level courses above as well. This may be a good time to try a different aspect of dance that you have not had the opportunity to explore before. The Intro to Composition course is the entry point to our composition series and an excellent starting place for anyone thinking about choreography. For the really committed dancer –the highlight of our Fall semester is DANC 253 Dance Repertory Performance and the technique class that accompanies it DANC 270D Repertory Styles. It is a big time commitment but you have the opportunity to work with our guest artists in intensive choreographic projects. The Early Modern Dance History course is open to first years who are willing to work hard and challenge their assumptions about dance and the FYS What is Performance, taught by Professor Carol Dilley, will be about all kinds of live performance including dance.  It is open to performers and non performers alike. This is a great start to college thinking about performance beyond the boundaries of any one discipline.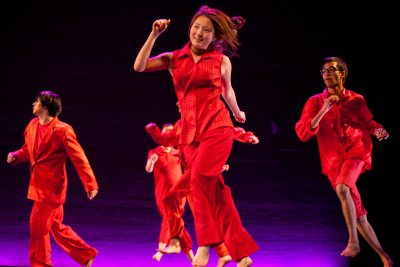 PERFORMING AT BATES
First year performance piece
Each year we do a first year performance piece. We welcome any kind of skills and work out how to put them together in the rehearsal process.
There are also opportunities to show off your stuff in the Parent's Weekend Concert if you want to make a piece. If you are intrigued but want more info, please contact Rachel Boggia at rboggia@bates.edu or in Pettigrew 202.
In the more general picture of dance life at Bates:
The Dance Company is an open door group. It is the people who are dancing in the Fall and Spring Concerts.
The Parents Weekend Concert and the Short Term Dance Club concert are shows that include both course-based pieces and student initiatives. The Fall Concert pieces are all made in courses. DANC 253 Dance Repertory Performance and the lighter version DANC 270D Repertory Styles are where most of the Fall Concert is generated. 270 Rep styles is an advanced technique class that meets twice a week and is taught by the visiting guest artists when they are in residency. Taking this class gives you the possibility of doing one of the four repertory pieces we are making this Fall. The resident guest choreographers are: Transgender choreographer Sean Dorsey, who will be teaching repertory from his piece The Lost Generation; Mexican Choreographers Omar Carrum and Claudia Lavista from Delfos Danza Contemporanea, who will be making a new piece; Japanese born NY choreographer Takishiro  Ueyama, who will be collaborating with composer Hideki Kato and Bates musicians to create joint venture with the Music department; and our own Associate Professor Rachel Boggia.
In the Spring, the entire concert Spring Concert comes out of Dance Composition courses 251 and 351. There are MANY opportunities however to be in dance pieces as a dancer without taking the composition courses. Only the choreographers are in the courses and each one of them has a cast of dancers for their piece. This means that there are between 30-40 dancers wanted for the Fall Concert each year.
The best way to really be part of the dance community is to be in classes. Most of the technique classes are only half a credit and we have classes available all day long. You can take classes as many times as you want and for all four of your years at Bates. It is a great way to balance out your schedule and keep your soul singing.
DANCE CLUBS
There are also a number of dance clubs, which will be giving information at the Activities Fair. This year we expect to see clubs representing Ballroom, Bollywood, Hip Hop, and many more. The international club also presents dance, Sangai Asia puts on a big show, Sankofa presents a big piece each year, Amandla brings guest artists, and the Dance Club and Bates Arts Society are two umbrella arts groups that do their best to coordinate efforts and make opportunities. For more information about dance-related clubs on campus, click here.
Rachel Boggia – Director of Dance
rboggia@bates.edu