News and Updates
A place to learn about updates and upcoming opportunities throughout the semester.
Congratulations!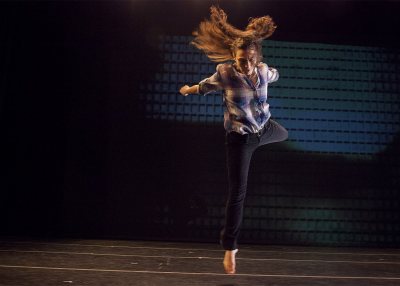 Theater and Dance faculty member Rachel Boggia has been promoted to associate professor!
Department: Dance
Fields of research: Dance in cross-disciplinary collaboration, dance documentaries, and multimedia performance
Came to Bates in: 2010
Why I teach: "I teach to unleash creativity, critical thinking, collaborative skills, and physical experimentation in my students. They teach me by bringing their unique perspectives, knowledge, and questions from across the curriculum into their dance research.
"In technique classes, we attune ourselves to our physical and social experience with rigor and joy. In creative processes, we put our fully embodied selves at the intersection of ideas and let our questions move us. In the study of theory and history, we learn strategies for approaching dance practice as a model for action in the world.
"One of the most vital contributions that dance studies makes to academic culture is the experienced understanding that the moving body is a medium through which cultures are changed and knowledge is created. The best part of my job is helping students realize their personal ability to grow, change, and contribute creatively to any endeavor that moves them."
For the full news story click here.