Minors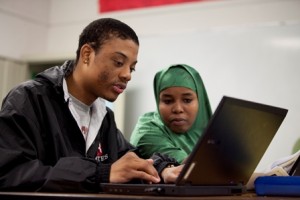 The Bates Department of Education offers two minors in education for students interested in connecting their academic interests in a major discipline with the field of education: Educational Studies and Teacher Education.  In both strands, students are required to take Education 231, Perspectives on Education.  This course introduces students to the field through foundational perspectives that stimulate further interest in the field; it is open to first-year students.  Students interested in designing a minor in education are encouraged to come to information sessions offered twice during the academic year and to make appointments with education faculty for early planning and advisement.
Planning

Students who wish to pursue a minor in education in either Teacher Education or Educational Studies should begin planning their course schedules no later than the sophomore year.  With early planning they will be able to meet all requirements for a major and a minor and spend some time in off-campus study as well.  Those students interested in certification need to think about how to manage the demands of student teaching in their senior year with their course work and thesis.
Pass/Fail Grading Option
Pass/fail grading may be elected for courses applied toward the minors.
General Education
A minor in either teacher education or educational studies may count as one of two required general education concentrations (GECs).  In addition, four interdisciplinary general education concentrations include education department courses:
Children, Adolescents, School (C030) with courses from education and psychology
Science Education (C004) intended for students likely to major in science or mathematics
Learning and Teaching (C084) intended for students who wish explore teaching without committing to the teacher education minor
Language and Literacy (C085) intended for students interested in cultural literacy and the educational aspects of these topics.
Title II "Report Card"
An amendment to Title II, Higher Education Act (HEA), passed by Congress in 1998, requires that states and institutions with teacher-preparation programs annually report to the public the pass rates of program completers on assessments required by the state for teacher certification and other program information. For secondary certification, Maine requires CORE (formerly Praxis I) tests in reading, writing, and mathematics, and Praxis II tests in the given discipline.  The Bates program requires successful completion of the CORE tests.  100% of Bates program completers in the past year who took the examination earned passing scores required by Maine certification.  Each year, we typically have between 2 and 12 teacher ed candidates.  The current requirement for clinical experience in the program is 450 hours.  Further information about the program's annual report is available from the Director of Teacher Education.