Alumni
Class of 2013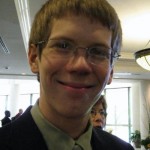 Matt Maley '13 is a Teacher Education Minor. He chose the Teacher Ed minor as a step towards becoming a high school math teacher, an aspiration he has had since high school. Matt is a Math major at Bates and will be completing his capstone seminar about generalized symmetric spaces. During his four years at Bates, he has worked in the Lewiston High School, at the Tree Street After School Program, and for a non-profit in Lewiston that worked towards safe and affordable housing for all Lewiston residents. Through these experiences he emphasizes the importance of getting involved in Lewiston community by spending time off the Bates campus and talking to people that live, and in some cases have lived, in the city for their entire lives. In addition to his work in the community Matt is also a very dedicated tutor in both the Peer Writing Center and the Math-Stats Workshop. His favorite class in the Education Department was entitled, "Educating for Democracy." Over the summer Matt takes his experience teaching in Lewiston to a fine arts summer camp that teaches students who normally do not have much exposure to the arts during the school year all about theater and music. Additionally, last summer he was the teaching assistant for the Artificial Intelligence class at the St. Paul's school summer program for top-performing 11th grade students in New Hampshire. Next year Matt plans to head out West to Colorado to teach at the High Mountain Institute, a school that weaves Outdoor Education and classroom instruction into one curriculum.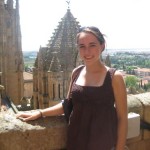 Libby Egan '13 is an Education Studies Minor. She became hooked on studying education by Patti Buck's first year seminar, Exploring Education Through Narratives. Libby is a Sociology major at Bates and is writing a Sociology thesis with a focus on education by starting a book club for middle school girls at the local YMCA. She will analyze how reading about strong protagonists can empower girls to navigate social issues in their own lives. She finds constant connections between classes for her major and classes for the Education Studies minor and feels particularly lucky when classes are cross-listed between the Education and Sociology departments like ED/SOC 308 entitled, Education Reform and Politics. Libby loves working in Lewiston's after school programs. She loves the opportunity to really get to know the students and become more of a mentor rather than simply a tutor. She feels as though the field placements required for every Education class are wonderful opportunities to see theories in action and to make a positive contribution to social change. She asserts that even though interactions with students in the classroom or after school program may seem small on a global scale, they are huge for the students. Libby recently studied abroad in Africa where she got to spend some time learning about the way the Education System works abroad.  Libby wants to be a social studies teacher at the secondary level. She is pursuing fellowships and masters programs that will lead to her teaching certification. After being so inspired by her work abroad she is also exploring the possibility of teaching English in another country.
Class of 2012
Joanna Goldin
Major: American Cultural Studies
Minor: Education Studies
Thesis Topic: College aspirations of local Lewiston High School students
How did you first become interested in the Education field?
I worked as a teaching assistant for my English teacher in my sophomore year of high school and that was my first look kind of "behind the scenes" of education. I really enjoyed being on the other side of things and got a lot of positive feedback saying that it seemed like I felt comfortable there, and that is when I really began to consider it as a field of interest.
Why do you think studying Education is important?
I think everyone should have knowledge of the basics of our educational history and system because, after all, we are a part of it. In order to be able to critique the system in which you live, you should be able to know its foundation. Further, education (and how it works and functions) is such a huge issue today that studying it is incredibly relevant.
How have Education courses at Bates foster your interest in education?
The courses have shown me a variety of sides to the issues and history of education. I have been able to go in to the classrooms and see our class discussions come to life. Being a part of the Education Department at Bates has made me realize how important education really is and that it is something I want to be a part of for a very long time.
Describe your work with professors in the Education Department.
They are very accessible and approachable and always open to conversation about current events or what is going on in the classroom. I find the education professors very relatable yet obviously quite knowledgeable on their field of study and excellent resources of which to take advantage. They have challenged me in many ways and these challenges, though difficult at the time, were ultimately incredibly rewarding and I am better off for them in the end.
What experiences have been the most rewarding for you in your field placements?
Seeing students flourish and grow in their own individual ways. Whether that be through mastering topics in school that they were struggling with before or just becoming more happy and confident individuals.
Class of 2011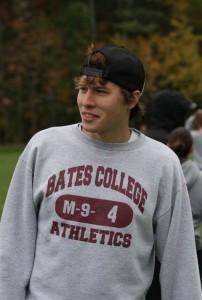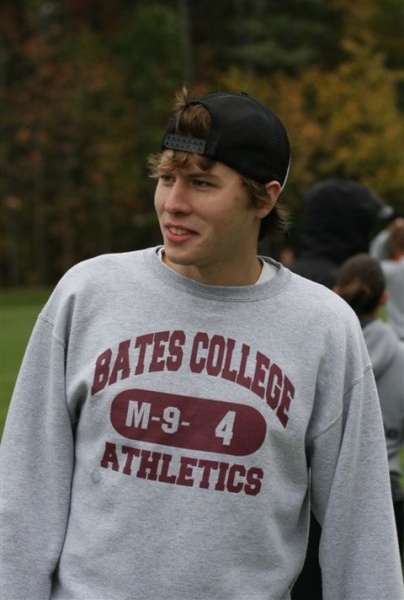 Kevin McDonald

Stewart Manor, New York
Psychology Major
Educational Studies Minor
Thesis topic: Influence of Service-Learning on College Student-Athletes' Identity Development: Applying the Student Development Theory of Chickering
Why is studying education important to you?
I liked subject matter, but as time went on, I grew to love the field. I want to pursue a career in higher education administration.  Education in general is important in society, politics and our economic structure.
How did you first become interested in the field of Education?
My sister did the teacher certification program here and told me that education professors and classes were great, and that's how I really got started.
What experiences have been the most rewarding for you in your field placements?
During Short Term, I took Creating Educational Experience on Morse Mountain, and worked with middle school students who were failing in the traditional educational setting. Here, I worked with them, conducted lesson plans in the woods and got them engaged in learning and this helped to show their potential. I have also done multiple projects at Longley with Helen Regan's classes. One of the most rewarding projects was for Critical Perspectives on Education class where we went to demonstrate to the community that there were certain social and political structures that were at work in hindering students' performances.
How has studying education impacted your other classes or other aspects of your life?
A lot of the material comes up in other classes, as it is an interdisciplinary subject. Education has always been something I valued a lot and continue to value.
How have the field placements shaped your experiences in education?

The field placements serve a strong purpose in connecting the course material to real life practice. In this way, we learn by doing.
Which classes have had the most impact on your experience in the study of Education?

Education, Reform and Politics and Critical Perspectives on Education, both with Helen Regan.
What are your plans for life after Bates?
I'd like to go to Grad school for higher education administration with a likely specialty in student services.
East Los Angeles, CA
Psychology Major
Educational Studies Minor
Thesis topic: Breaking Bread and Campus Conversations on Race
Why is studying education important to you?

A lot has to do with my own educational background. I went to a large inner city public high school  in east Los Angeles which was 99.9% Hispanic and I experienced a lot of the current topics under debate such as tracking and inequality in funding compared to the other schools in the same district that were mostly white. I thought it would be interesting to get the theoretical framework of what I experienced because I felt that all my questions weren't answered. There really is no right solution to overcrowding when you talk about educational reform. It is not just a matter of making all things equal- it is not just whites or minorities, red zones or white flight. Education reform is connected to so many issues that there is no quick fix.
What experiences have been the most rewarding for you in your field placements?
Most of my field placements were at affluent schools, Pettengill and Farwell. I didn't like it there because I would just go in and observe, and I helped the teacher do photocopying. Here, I felt what I knew was being wasted. Longley was more like the type of environments that I'm used to and what it was like for me growing up. I work with kids on artwork giving them positive feedback that they don't really receive from their parents and home environments. Deciding to sit at their table makes them feel special. It is rewarding for me. I may not be helping their academic abilities, but I am helping their development needs because every child needs positive feedback.
How has studying education impacted your other classes or other aspects of your life?
I am a Psychology major. I love Psych and have always wanted to go into it. When it comes to Psychology and Education, I feel a lot more strongly about education, and now I have chosen to pursue it in graduate school.  I had always thought of myself as going into Psych, doing research and donating to educational programs, but now I see myself as educational researcher doing what I can to improve the educational experience of all children.
Which classes have had the most impact on your experience in the study of Education?

Education, Reform and Politics class is my favorite class in all of Bates because we talked about everything I've always found interesting- charter schools, school choice, zoning, red lining- everything that is current and new in education debate. I can now conceptualize what that means for us now, and think of possible solutions, and the pros and cons of charter schools. In that class, we took field trips to Casco Bay, an alternative high school in Portland and Freeport Elementary, a progressive school. There we got to see how they differed from regular elementary school. It was good to see what we were learning playing out in local settings.
What are your plans for after Bates?
I plan to work for two years in an education setting and then go on to graduate school and get my PhD in an education program, most likely human development.  My main career goal is to become an educational researcher and see how race and education play out and see how things turn out in intervention programs.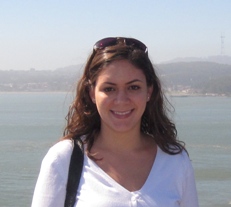 Carolyn Silva-Sanchez, Class of 2011

Lexington, Massachusetts
Politics Major
Educational Studies Minor
Thesis topic: Leaving Parents Behind: An Analysis of No Child Left Behind and its Impact on Somali Parents in Lewiston, ME

Why is studying education important to you?
It is a political system that we are all involved in, and it is important to understand how it works and what doesn't work.  Additionally, it is important for everyone to have access to a good quality education and I'm passionate about making that a reality.
How did you first become interested in the field of Education?
I've always wanted to be a kindergarten teacher and came to Bates partly because of the reputable Education Department. Within the department, I realized my interest in educational policy, which goes beyond the scope of teaching.
What experiences have been the most rewarding for you in your field placements?
I've loved all of my field placements. The best kind of learning happens when you can apply classroom knowledge to a real-life situation. Lewiston is such a great community to work in – I've seen the resilience of children and how rewarding it is to work with them.
How has studying education impacted your other classes or other aspects of your life?

It has completely shaped my Politics major. For my thesis, I looked at No Child Left Behind and analyzed the policy from both a political and educational lens. Education has driven my interest in politics.
Which classes have had the most impact on your experience in the study of Education?

All the professors here are wonderful and they offer very different approaches to education. Globalization and Education introduced educational policy to me. Critical Perspectives was a more in depth look at the complexities within public education, and barriers to education at both the national and local level.
What are your plans after Bates?
After Bates, I will remain committed to learning about, and contributing to education, and hope to work either for the U. S. Department of Education or an educational non-profit.
Bronx, New York
Interdisciplinary Major combining Education, Anthropology and Politics
Educational Studies Minor
Thesis topic: Twentieth Century Stories of Transformative Thought and Action
How did you first become interested in the field of Education?
I first became interested in Education through acting as a mentor and teacher to my two younger sisters. Then through getting my first job as an assistant acting teacher, I found out that I loved working with children.  But education first appeared to me as a serious thing to help people out of states of oppression as I went through an emotional adolescence, and only felt release from my bent feelings of not being understood through my learning at school.
Why is studying education important to you?
Studying Education is important to me because it teaches about the history of people who have believed in critical thinking for the individual as a means to self-determination.  Philosophical reflection through different moments in time and different places around the world has been regarded as the way for the individual to become empowered, to become the agent of his or her own knowledge – in order to counter or mediate the way that societal divisions shape our everyday perceptions.  But only through Education have people tried to institutionalize this focus on critical thinking for the masses.  Only through different forms of education have people tried to make critical thinking the more valued process of society.
What experiences have been the most rewarding for you in your field placements?
The most rewarding experiences have the ones where I have gotten to work one on one with students to learn about their lives and the particular things affecting them at home, at school, or in their studies – and possibly threatening their intellectual or emotional growth.  Last year at Longley Elementary, I worked with a fourth grade boy who was being repressed by his school environment.  We became friends through breaking open together his love of science, and delving into his scientific curiosities in ways that he didn't have support for in school.  He began to come out of his shell and became excited and sociable each day because he felt that his particular intelligence and interests could belong somewhere and be fostered.
How has studying education impacted your other classes or other aspects of your life?
Education has become my framework for understanding how creativity and change come about or conversely remain buried and discouraged, either in individuals or throughout nations.  Education as a particular methodology applies to Politics, Sociology – basically any discipline – because it shows how higher reflection can be achieved individually or institutionally to bring about change.  Additionally, my Education classes have revealed to me different parts of Politics and Sociology, such as how our capitalist economy pervades every function of the state, and thus informs the mentalities of the masses.  So learning about the manifestations of power for entire systems or for individual people through an Educational lens has allowed me to see what people have tried to do to bring about social change.  Education teaches about the world but through the framework of hope for a better future, showing always the fact that things are not stuck but can be transformed.
Which classes have had the most impact on your experience in the study of Education?
Critical Perspectives on Teaching and Learning has had a big impact on my understanding, as has the Educational Studies seminar.  Both of these classes have tried to convey the big picture, but additionally have encouraged us to think for ourselves, to learn only what we find interesting and in the manner which we believe suits us – to essentially build our own pedagogies and curricula.  This is the actualization of empowerment even at such a small scale of a five-person class.  These classes have taught how to engage in critical reflection, and this is a skill which I can literally take everywhere in life.
What are your plans after Bates?
Immediately, I would like to stay in Lewiston and develop a role for myself as some kind of Somali youth coordinator in order to help with projects that are already going on to improve the opportunities and support systems for Somali youth in Lewiston.  At some point I would like to teach in an inner-city public school, possibly in California, in order to learn more concretely about the social disadvantages which various groups of people face in the United States.  And in the long run, I would like to develop, publish, and possibly implement my own philosophies on Education.  I am very interested in the forms of Education which have been created outside of the formal school, and so this might become a possible point of research in graduate school.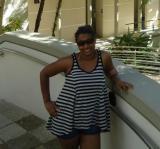 Frangely Ventura, Class of 2011

Where from: Providence, Rhode Island
Major: Anthropology
Teacher Education Minor
Thesis topic: How is technology being used to enhance students' learning in a 7th grade math classroom?

Why is studying education important to you?
I believe all students learn differently. I want to be able to help students figure out what they can do in life. I enjoy working with all kinds of students, specifically with inner-city kids because it is where I come from and to me that's really important.
What experiences have been the most rewarding for you in your field placements?
All of my field placements have been rewarding for me. However, one of the things I remember the most is when you have a student come up to you and say you did a really good job teaching today. It makes me happy to see their faces when they finally get something. Seeing students smiling and being happy let me know I am doing something right.

How has studying education impacted your other classes or other aspects of your life?
Education at Bates has definitely changed my perspective in the way I think. Now, whenever I go home I definitely see the differences between the education system in Maine and other states. I am now able to explain how different the education system is to my family members. Some things that have shocked me about classes at Bates over all is that even if you think your classes have nothing in common you find out that they do. I took an anthropology class called medicine and culture and I could not believe how that could relate to students in school. It helped open my eyes and see the world differently.
Which classes have had the most impact on your experience in the study of Education?
I really liked the Early Literacy and the Teaching math and science class. These classes helped me work with younger children and also allowed me to learn about math from another perspective.
What are your plans for after Bates?
After Bates I plan to teach. At the moment I am looking for jobs and hope to get one. If I decide to take some time before I teach I will do some kind of mentoring program where I can work with students. Working with children is my passion and it's what I've always liked to do.