---
Godfrey, Mollie
Search Returned No Results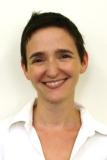 Mollie came to Bates in 2010 as a Visiting Professor of English, having just completed her Ph.D. at the University of Chicago. She specializes in African American literature and politics of the Jim Crow period, with training and teaching experience in early to contemporary American and African American literature, transatlantic modernism, and the novel. She has articles forthcoming in MFS: Modern Fiction Studies and MELUS: Multi-Ethnic Literature of the U.S.
Her book manuscript, "A World More Human: Reimagining Race and the Human Race in the African American Novel, 1890-1965"  argues that writers of the Jim Crow period such as Pauline Hopkins, Nella Larsen, Zora Neale Hurston, Richard Wright, Ann Petry, Paule Marshall, and James Baldwin used the capacities of the novel as a genre to transform American universalist discourses into ones that were productively informed by historical, cultural, racial, and sexual particularities. In trying to make their particularized vision of humanity into a foundation for antiracism, these writers contest the prevailing view that the embrace of "humanity" as a concept entails a capitulation to Western identities and interests. They also contest our tendency to categorize black authors as either separatists or integrationists, radicals or liberals. Instead, Mollie shows that these writers' yoking together of racial particularity and universal humanity not only enables a more nuanced and progressive understanding of the human, but enables us to reimagine the political stakes of the novel genre.
At Bates, Mollie has taught courses on racial passing, the African American novel, and African American literature, American realism, U.S. fiction, early American literature (pre-1800), and nineteenth-century American literature. Having helped preserve several African American archives in Chicago, including those of the Chicago Defender and the South Side Community Art Center, she is now working with undergraduates at Bates to preserve and publicize the papers of the Maine NAACP. In 2012, she won the Harward Center Faculty Award for Outstanding New Community Partnership Initiative for this work.
---
Contact Us