Emily W. Kane
207-786-6192

Sociology

Professor

Pettengill Hall, Room 269

Women and Gender Studies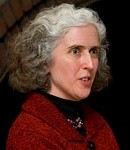 Professor Kane's research and teaching interests encompass inequalities of race, class, gender and sexuality; gender and family; sociology of childhood; research methods; public opinion; social psychology; community-based research; and community-engaged learning.
Some of her recent publications focus on the politics of knowledge in community-based research (2012), parents preferences for sons and daughters (2009); parental monitoring of children's gender conformity (2009), predictors of support for gender-related affirmative action (2009), queer student support for queer politics (2008), hegemonic masculinity and parental accomplishment of gender for sons (2006).
Her current research projects include a book on how parents reproduce and resist gendered childhoods (The Gender Trap, published in September 2012 by NYU Press), several writing projects related to community-based learning and community-engagement in sociology, and a textbook on gender and sexuality in childhood (Rethinking Gender and Sexuality in Childhood, forthcoming with Continuum Publishing in January 2013).