Teaching Assistants
Since 1994, Bates has had visiting Teaching Assistants from the Russian city of Orel, about 250 miles south of Moscow. Bates' informal collaboration with the Pedagogical University in Orel began in May of 1988, when Professor Costlow first led a group of 15 students to what was then still the Soviet Union. In the years sense, dozens of Bates students have studied Russian, lived with Russian families, and enjoyed getting to know their peers in a small Russian city. Bates Teaching Assistants are recent graduates of the English Department at the Pedagogical University; they bring special training in foreign language pedagogy, and enthusiasm for both Russian culture and learning about the U.S. and Bates students. The Teaching Assistants help out with language classes; provide special tutoring for Russian students; coordinate a weekly Russian Table; and help given Bates students a sense of what life is like for young Russians. The Teaching Assistants aren't just teachers, though – they s take two Bates courses, finding out for themselves what American student life is like.
Irina Krasilshchikova
A year of Russian tables on Friday in Garcelon room, Samovar (German-Russian) meetings, of traditional Russian films with untraditional English subtitles, a year of cooking dishes, decorating a board near professor Costlow's office, singing songs and ENJOYING it all to the greatest possible extent! While I taught American students Russian now I am teaching Russian students English at the Orel State University. I entered graduate school in Linguistics and I am working at my Ph.D. thesis.  My students are willing to learn about the USA, its system of education, relations between teachers and students. Having had a chance of being an insider at Bates, gaining an insight into it I am happy I can share my delightful experience with them, show them pictures and videos that I took at college.   To learn a foreign language you need to be motivated. My students know that Bates students (they heard so much about) will come to Orel one day and they should know English to talk to their American counterparts. Bates is ALWAYS welcome in Orel!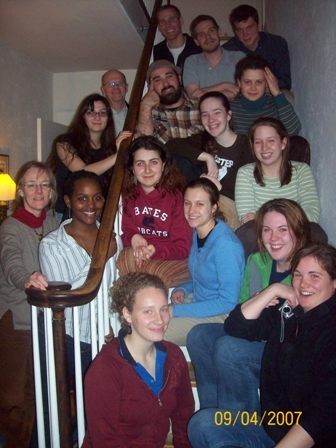 Elena Kazmina (2007-2009)
Julia Prusova (2003-2004)
Anne Bobkovskaya (2001-2003)
Anne Chirikina (2000-2001)
Inna Titova (1999-2000)
Galya Titova (1998-1999)
Olesya Yurchenko (1997-1998)
Natasha Tsyganova (1995-1996)
Inna Trishina (1994-1995)
Katya Zaytseva
(2004-2006): I am writing this letter sitting in my room in Freiburg, Germany, with an absolutely wonderful view over red roofs of the city which stand out at the background of the Black Forest Mountains. Freiburg is an amazingly beautiful city!
I've been here for more than a year already, studying for the MA Program "European Linguistics". The first thing to say about it is that I am absolutely enjoying my staying here! I am learning and discovering new things all the time, both in class and in everyday life. This is the way I was spending my time while staying at Bates, too. There I was learning not only to discover ideas, but also to believe I was the one to develop and to challenge them. Another important thing for me was the opportunity to share my own language and culture with people around me.
The hallmark of my experience became the realization of the fact that the world is much wider and much more multi-faceted than I had ever been able to imagine it to be. Moreover, the people I met at Bates (which eventually became my friends) helped me discover a whole new world inside me, they made me also believe that as long as I am pursuing the path I am passionate about, I am going to succeed. Thanks to all these people, I became more aware and more confident of my desires, my abilities and my aims. Thank you, Jane! Thank to all the people I had a chance to talk to and to share a part of myself with!