Katrin Laschober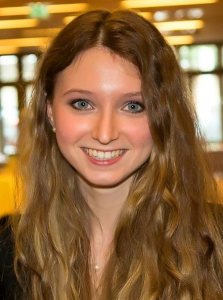 Hello and servus! My name is Katrin Laschober and I am the German teaching assistant this year. I was born and live in Vienna, Austria. I am a graduate student studying General Linguistics and Educational Studies at the University of Vienna.
My studies are focused on psycholinguistics, speech pathology, and language acquisition. My academic and professional background includes working as a tutor for the linguistics department as well as a semester of study at the University of Genoa, Italy. While studying in Genoa I also worked at the Goethe Center and as a conversation instructor at the department of German Studies. Working as a teacher for students learning German as a second language at several institutions in Vienna has been an incredibly rewarding and important experience.
I am very happy to spend this year at Bates, to experience the American college culture, and to convey German and Austrian culture. Also, you are always very welcome at the German Table (regardless of your level of German), which takes place in Commons 211 every Tuesday from 5.30 – 7.00 p.m.