Valeriia Fedorova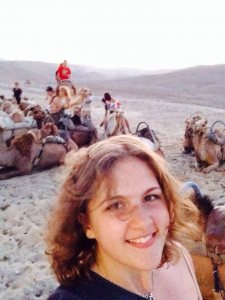 Office hours (Fall 2017):
TBA
Hey all! My name is Valeriia Fedorova but you can call me Lera. I am 22 years old and I grew up in Oryol, Russia (as well as all previous TAs from Russia). I am getting my Master degree in Oryol State University (OSU). While getting my Bachelor degree I participated in several events such as Jazz Province festival and Olympic games as a translator. Besides, thanks to my university I had opportunities to travel and to get to know lots of people from different countries.
Two years ago, I had a great chance to help with the organization of Bates Short Term in my city and I also hosted two people at that time. This is how I learned about Bates. Now I am very happy and grateful to be here, to experience life in US college, and to introduce my country and culture. I am glad to have the chance to teach Russian and to get to know other people.
You are always welcome to come to Russian Table on Wednesdays at 5.30 pm in Commons, 211!