**WORKSHOP CANCELED** Thesis Support: The Literature Review
The CBBcat catalog will be offline for planned updates on Thursday, July 27th starting at 10:30am. During this time use MaineCat for your searching although the "availability" category may vary.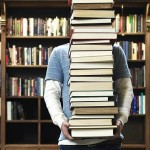 Don't let yourself get buried by your research!
Most thesis students find themselves wrestling with the literature review at one point or another. As your research takes you further into your topic, the literature review's focus and framing of the research question often shifts. How do you find the most relevant and useful sources–and keep track of what you find? How do you decide what stays in and what goes out? We'll work on strategies for negotiating the voices of critics and scholars in your field, so that the path to your research question is clear and your voice stands out.
Join Misty Beck and Chris Schiff in Commons 226 on Thursday February 9 at 4:10 PM for a workshop on the Literature Review, and keep your thesis manageable!