Harry Keyes '54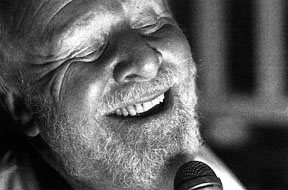 Just Wild about Harry
Harry Keyes's name really is Harry Keyes. Well, if you ask him, he'll say it's Harry Keyes.Keyes is not a wiseguy. He's just immersed in his calling — his true love — of playing the piano. So Harry Keyes it is.
For seven years, Keyes has been playing piano for the dinner crowds at local restaurants along the southwest Maine seacoast. He was loved so much by one woman, that when she died, the picture that ran with her obituary was of her and Keyes singing.
His fans have included the late Ed Muskie '36 and George and Barbara Bush. "It's a great leveler," says Keyes of the music.
Keyes plays these days at the Aquarius restaurant in Arundel, just outside Kennebunkport. He plays Friday and Saturday evenings, beginning at around 6:30 p.m. It's a bit slow on a recent night, as it's Good Friday, but the evening's still young, so Keyes is low-keyed. So low-keyed that he can play Autumn Mist and be interviewed at the same time.
Keyes is dapper in a black vest, a little grizzled-looking with short gray-white hair and a beard. He has a wry sense of humor, is a bit self-effacing and quite friendly. He is a real Piano Man with an extensive repertoire of songs "that people hum in the shower. Anything people remember, I can play," he says. He remembers patrons, particularly tourists, by their faces and the songs they request.
But Keyes draws some lines. He doesn't play hard rock, which probably wouldn't appeal to his audience anyway, and he has a list of what he won't do. Sinatra and Streisand may be chagrined to hear the list.
"What I don't play is My Way, The Way We Were, People (Who Love People), Evergreen, Feelings, New York, New York," he says. Nor will he play anything from the musical South Pacific or Puff the Magic Dragon.
A man has to have some limits after all. But that leaves thousands of other possibilities.
Keyes sings, too, as he does occasionally on this quiet night. He downplays his vocal ability but is actually a distinctive singer, with a growly and rumbly voice in the Louis Armstrong/Dr. John mode. It's a refreshing sound, and dispels any preconceived notion that the Piano Man will sound like a cheesy crooner, sliding around notes, talking through the lyrics — an image indelibly etched in many minds ever since Bill Murray's take on restaurant crooners on Saturday Night Live.
Keyes is the real article. He says he has been playing piano all of his life. He began studying classical music at age ten, played in a trio in high school, and also played the piano and told stories for parties and clubs. The Malden, Massachusetts, native moved to Lewiston to attend college and then began his working career. He says, until 1980, his career involved "communications and financial things. Horrible things of that nature."
That was to change. "I left it all in 1980 to go to tropical climes and play piano," he says. Keyes went to Key West (perhaps another key to the truth behind his name) where he played the ivories for four years. In 1984, he moved to Berwick, where he lives with his wife, writer Kathleen Hargraves.
"You cannot make your living doing this," says Keyes of his piano-playing life. Even playing six or seven nights a week would not generate enough income to call it a "living," he says. But that's not the point. Keyes is at home behind the piano, playing music to match the crowd's mood, or perhaps, to create a mood. He plays smartly, spritely, grandly, elegantly, altering the tempo of a song to suit his whims and the audience. Keyes moves to the background when his fans come up to sing their favorites — people like Wanda, who is not here tonight, but is known for her beautiful voice. Says Keyes, "I love doing this."
By Nancy McCallum
Reprinted courtesy of the Biddeford Journal Tribune.
His classmates and many friends know Harry Keyes as Harry Meline '54. — Editor