Rebecca Senior '84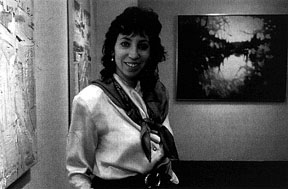 Plenty of Time for Rebecca Senior '84
Movie stars. Rock stars. And French impressionism. Who better to link such disparate worlds than Rebecca Senior '84, vice president of David Findlay Galleries of New York.As a Bates student, Senior adopted a well-remembered campus persona that earned her the nickname "Leopard Woman." She cohosted a WRBC program showcasing "Naughty New Wave" music and dressed the self-envisioned part of an art major: Her campus lair featured a leopard mattress, upon which she might lounge in spotted pajamas and bathrobe; and outside, a 1983 Bates Studentphotograph shows Senior in her leopard overcoat — "A bit of California in Lewiston," read the caption. "I wanted to be well spotted," she says now.
The look was flashy (for in the early '80s), but didn't disguise what Senior had to offer. "She was a very grounded person," said Ned Harwood, one of her Bates art professors, "very sensitive and in touch."
Today, Senior collaborates with a colleague to curate shows of one hundred paintings that change approximately every six weeks. The Madison Avenue gallery exhibits a stable of ten primary colorists, mostly Frenchmen in their early seventies, many of whom were students of Maurice Briachon at the Ecole nationale supérieure des Beaux-arts. "The same artists have shown here for thirty-five years," she said. "That is very rare. I find it to be much more successful to be very narrowly focused as a gallery," she said. "People who want that sort of feeling have come to the right place. Some people love to come here and have never bought anything."
Amidst the sedate yet vibrantly colorful walls of her tony Upper East Side establishment, Senior caters to, among others, a celebrity clientele (no names, please, says Senior) who regularly purchase art for home and work. "How would a painting enhance their lives?" asks Senior, who consults with clients to determine where in their worlds a particular painting might fit. "A new painting for a special occasion? What is it you like and would you want to live with it for thirty or forty years?
"I'm a people-oriented person," she continued. "It makes the job very entertaining." Senior works with clients on a regular basis, almost as a decorator, simultaneously "forming long friendships."
During her M.F.A. program at Columbia University, Senior painted like a house on fire. "I was a painting machine. I tried to do one painting every day," she recalled of her quotidian efforts to capture color and light in the form of landscapes. "I did more painting than some do in a lifetime." Senior grew up surrounded by the canvasses of her uncle Max Weber, a prominent Russian-American modernist who died a year before her birth.
Consumed by painting, Senior nonetheless surfaced to investigate the world of galleries, and in doing so discovered "artists are their own worst enemies. So few make it as working artists. Yet as much as I felt that painting enriched my life, I wasn't certain that I could make a living. I wanted to keep it as a passion but not worry I'd have to paint X number of paintings to pay this month's rent."
Instead, she decided to pursue the business side of art, and upon completing her Columbia degree secured a position as gallery assistant with David Findlay Galleries. Descended from an art empire established in 1870 by Midwesterner Walstein Chester Findlay, Jr., the enterprise is one of four Findlay Galleries, all family-related but each financially independent of one another.
A small but significant part of her job involves photographing the gallery's stock of some one thousand paintings. "In doing that, I'm memorizing the inventory," she said. She taps this useful warehouse of information during consultations with clients who may be seeking a work of a particular subject, color, or shape. Senior spends about 20 percent of her time talking with gallery visitors, offering tours of the exhibits, unconsciously inspecting the condition of artwork and frames as she goes along. "My daily activities are what I cherish. I know it's a job, but it doesn't feel like work. It's a career. I feel so comfortable at the gallery that I feel like I'm at home." In fact, she intentionally lives close by — just four blocks away.
For an artist who once painted so feverishly, she continues to pursue other activity in a similar fashion. "There are nine hundred galleries in New York, and I've visited six hundred of them," she said.
She surveys her creative future with a touch of confidence. "I have no regrets about not painting now as a working artist. I'm working with seventy-year-old artists, and I see that art has no time clock," she said. "There's a lot to be said for older artists. Their minds are stronger, and their paintings are better than they were thirty years ago. There's plenty of time."
By Phyllis Graber Jensen