On & Off Campus

Big Numbers from Double Zero
The late-summer process of finding beds for one of the largest student populations in recent history prompted some good quotes from housing officials. New housing coordinator Matt Arsenault '96 told
The Bates Student
that his first few weeks on the job was "baptism by blowtorch."This fall, the student body is about sixty more than projected. The causes include a large entering class (501 members), coupled with fewer upperclass students going on leave and an increase in students returning from leave.
"We are more crowded than we want or planned this fall," President Harward told the campus community at the beginning of the semester. "But adjustments have been made to ensure a consistent Bates experience for all of our students." Harward said that the winter enrollment will be lower to ease the crunch.
Housing was a key adjustment. The College created new beds in a variety of areas. For example, some Smith doubles became triples, the Bates-owned Chaplain's House at 227 College Street (vacant with the departure last spring of Chaplain Wes Avram) was opened for student housing, and another College-owned residence was quickly renovated for about a dozen students.
Why is the entering class so large (some thirty-five more than projected)? Virginia Erskine Harrison '63, associate dean of admissions, says the formula for predicting how many students will matriculate from the pool of admitted students — known as the "yield" — failed this time.
"More students than usual said 'yes' to Bates," Harrison said. "That translated into significantly more people." It also means that Bates is a hot school for high-school seniors.
She added: "All colleges admit more people than they have room for, and rely on experience to determine how many will actually accept admission." If fewer students than usual choose to matriculate, a college goes to its waiting list. If more than usual attend, a college finds space.
Size aside, the Class of 2000 is distinctive in many ways. Fifty percent of the class is from outside New England, the highest share ever. Other statistical tidbits gleaned from admissions data on the Class of '00:
"Inquiries" for the Class of 2000 — meaning students who request some type of information from the College — totaled 35,295, an increase of more than four thousand.
Applications totaled 3,847, up 8.4 percent over last year.
Applications from men increased 2 percent, slowing a recent trend toward more women than men applying to Bates.
Of accepted applicants who are children of alumni, 85.2 percent chose to come to Bates. That's the highest percentage in recent history.
Total multicultural enrollment in the Class of 2000 is fifty-seven, the second-highest in ten years.
Of the first-year students reporting a rank in their high-school class, 28 percent are in the top 5 percent of their class, consistent with previous years.
More than half of the entering class is receiving some form of financial aid, down slightly from the previous three years.
Fifteen nations are represented in the Class of 2000, including Ukraine, Bulgaria, Finland, Nepal, and Singapore.
Debate Memories Cast Bright Light
The Bates debate program began its centennial celebration weekend, September 20-22, with a Friday afternoon reception for alumni and student debaters in the Muskie Archives Garden. The sun was shining and the mood was light as alumni gathered to reminisce with others and to catch up on Bates news from present debaters.
Among many returning alumni — familiar debate names like Vincent McKusick '44 and Charles Radcliffe '50, among many others — a common theme was reverence for the late Brooks Quimby '18, Bates debate coach for nearly forty years, from 1927 until 1967. "You know, I have to tell you: Brooks Quimby was a special person," said Robert Rubinstein '53, now an attorney in New York City. Norm Temple '44, who once took over as director of debate when Quimby went on sabbatical, remembers attending the notorious "Quimby Institute." "The Quimby Institute was something Brooks made up for his students," said Temple. "Every debater had to debate against him — the `Institute' — but of course the Institute was undefeated. Brooks was the timekeeper and the judge as well." Temple added with a chuckle, "He would also rub his head and then flick his fingers as if to say `You had better be prepared' before you went up against him."
Elizabeth Gregory '38, a retired pediatrician, said, "Brooks cared about his students very much. I have never met anyone any better than him." Gregory said that her experience in debate at Bates helped her in her career as a doctor. "Debate helped me to stand on my own two feet and helped me to talk in front of an audience without being scared or nervous." When asked about being a female debater at Bates, she said, "I really did not recognize that I was a woman. I was a premed student, so I was used to being a woman in a man's field, which was the same in debating."
The student debaters listened to debates stories filled with the history that they had heard and read about for years. "Their stories were similar to our debates today. They talked about their debate partners, their topics — `Remember when we debated against so-and-so?' It's all the things we talk about today," said Jason Hall '97.
"All of us who attended the weekend came away with a renewed sense of this extraordinary tradition," said debate coach Robert Branham, professor of rhetoric. "It's wonderful for our current debaters to meet debate alumni. The achievements of these alumni — both in debate and beyond — give current students some idea of their own possibilities."
For the student debaters, it was their first chance to meet and talk to the names they had heard so much about. Hall said the reception was "a good way to break the ice," the start of a weekend filled with many celebratory events marking one hundred years of debate at Bates, including the publication of Branham's illustrated debate history,Stanton's Elm, from which excerpts will be published in the winterBates Magazine.
Strange Bedfellows
He made the national news last summer, shaking hands in a lobster suit with the likes of Dan Quayle, James Baker, and Bob Dornan at the Republican convention.At the same time, she was getting pumped for another four years with Bill Clinton in the White House.
But Bates students Christian Raffensperger '98 and Renee Leduc '98 say their love for each other transcends politics — for the most part.
"My attitude is `Dole in three months,'" Raffensperger said last summer. "She's like, `It's never going to happen, that would be horrible for the country.'"
Raffensperger, a history major, traveled to last summer's Republican convention in San Diego as one of two aides to the Maine delegation, running errands and hobnobbing on the floor with the nation's Republican bigwigs for four days. He spent the rest of the summer designing high-tech computer software for a San Francisco telecommunications firm.
Raffensperger, an Omaha, Nebraska, resident, even accompanied delegation chairman and party hard-liner Ken Cole to the ballot in a lobster suit, securing himself a place in national and local news coverage.
As he unwound from the whirlwind week, she was getting pumped up for the Democratic convention, which Leduc attended as one of Maine's delegates. For Leduc, the trip culminated months of grass-roots party work. She and fellow Bates student David Lieber '98 were elected to serve on the state platform committee, which drafts the party's official position on various issues.
Two weeks before the state convention in May, at which the national delegates are elected, Leduc was informed that the chair of the committee would be absent, leaving her, the vice chair, to present the platform in front of two thousand fellow Democrats. There, she was elected a national delegate.
The Enfield, Connecticut, resident spent the summer as a guide at the state Marine Resources Aquarium in Boothbay. "I am so psyched up for Bill Clinton and all the Democratic candidates in the state of Maine."
Raffensperger, the head of the College Republican on campus, and Leduc, leader of the Bates Democrats, first met through their involvement in political activism. The Bates Student profiled their respective groups.
Both immersed in politics, they rarely lack a conversation topic. Despite their differing views, they say they avoid heated argument.
In fact, both consider discussion valuable because it forces them to examine and explain their views. Their discourse actually serves to strengthen their opposite political views, they said.
Reprinted courtesy of the Lewiston Sun-Journal.
Another Round for the Blue Goose
With half the tavern's clientele drawn from Bates and the balance from community regulars, the Blue Goose Tavern on Sabbatus Street is "our version of 'Cheers' in Lewiston," says Tiny Tim, the Goose's bouncer-bartender for the last year. "Everyone gets along."For more than sixty years — since October 1933, to be precise — Bates students have made the Blue Goose a local touchstone, a rite of passage on their way through college.
And for Bates students hoping to make this passage, Tiny (at six feet, 270 pounds, he is, of course, anything but) provides a formidable challenge. Don't ever try to flash him an invalid form of identification. A practitioner of the tavern arts for thirteen years as both bouncer and bartender, Tiny can spot phony IDs a mile away and has confiscated 617 such fakes.
A criminal-justice major at the University of Maine, Tiny employs successful, if not particularly sophisticated, methods of separating twenty-one-year-old fish from underage minnows: He always holds the ID firmly in both hands so that upon discovery, an impersonator isn't tempted to grab the card and run. Or he secures an ID in one beefy palm while using his other fist to investigate with a mag lite.
It's just another weekend night at the Goose. Neon blazing as his backdrop, Tiny waits, a sentry perched atop his doorway stool, to inspect entering guests. "I have a photographic memory," Tiny states matter-of-factly. Therefore, once he recognizes a younger customer's face, he finds it unnecessary to "card" that visitor. "I don't have to harass people every single time they come to the door," he says. "The Goose is here for Bates students to come and enjoy themselves."
Come Reunion each spring, returning Bates alumni flock to the Goose and "line up out the door," says owner Mike Miller. "It's huge. Beyond your imagination."
Miller, somewhat of an absentee owner, leaves the day-to-day operation to general manager Scott Seguin. Instead of hanging around Sabbatus Street, the owner spends most of the year sailing on the South Seas. "Thanks to Bates College," he added.
Awards in Site
The Bates site on the World Wide Web continues to garner plaudits from itinerant Internet surfers and professional design experts alike.
The site (http://www.bates.edu/) received one of just two Gold Awards for Web design presented nationally in 1996 by the Council for the Advancement and Support of Education (CASE). The other went to the University of Wisconsin Sea Grant College's site. "Effective sites proved to be graphically interesting but uncluttered, easy to use, and with a depth of accessible information behind the pretty face of the home page. Bates College does all of this particularly well," said CURRENTS, the CASE magazine.
In addition, the University and College Design Association (UCDA) recognized Bates as one of the nation's best-designed Web sites.
Bates's Web page design and content are supervised by a team which includes staff members from Ladd Library, information services and the College relations office.
New ID Card Part of Access Policy
Last year, the Facilities Access Review Board (FARB) was handed one of the toughest assignments any committee could get: Propose a new set of policies on access to Bates buildings and services. In its report, recently approved by the College, the board makes good on its charge, calling for an overhaul in the way Bates grants access to those not in the Bates community. The changes took effect September 1.
For Bates students, employees, retirees, and alumni, the policy doesn't change. They still have access to the library, athletic facilities, and programs, and may bring guests to campus. For others, however, access will be more limited.
The "others" in this case are the many non-Bates individuals and groups who have been randomly granted access over the years. So loose was the practice that no records exist of who has been issued Bates ID cards.
With Bates facilities and programs more attractive than ever before, FARB was forced to looked at the access issue from the viewpoints of equity, fairness, security, and liability.
Was it fair, FARB members asked, that certain city employees could use the weight room in Davis Fitness Center when not all city workers could? Was it fair for some Lewiston residents to enjoy borrowing privileges at Ladd Library when such privileges were unavailable to others? Was it right that people capable of purchasing memberships in private health clubs were able to use Bates facilities at no charge?
"Bates should not be in competition with the local public libraries or with the private sector," said Patti Lawson, director of College relations and FARB chair. "The College exists to serve students first, and while we want to be open to the larger community, the students are the top priority."
The new access policy coincides with the issuance this summer of the new identification card, to be known as the BatesCard. The high-tech card can be programmed with information, so that — for example — when compatible locks (similar to those found in many hotels) are installed on College buildings, no one will be able to enter a building for which he or she does not have authorization.
Music Soothes the Savage Bobcat
"I'd rather see someone spend their fifty cents on something to eat. Food is more important," said cuisine partisan Bob Volpi, director of dining services, in reference to a recent Den innovation: the compact-disc Wurlitzer, a reproduction of the world's most famous jukebox, which now plays music 
free
that's donated by Den patrons.The top-of-the-line Wurlitzer replaces "an inferior unit," said Volpi, as well as an inferior policy. By asking Bates community members to donate CDs, "we gain control over what we hear." Traditionally, the jukebox vendor chooses the recordings based purely on revenue projections.
In concert with their diverse college surroundings, the donations represent a variety of musical appetites (no Michael Bolton, however). "We've got it all," Volpi said. Amanda Reynolds '99 often meets sister Brenda '97 at the Den, tapping their top-ten list of songs for play. "It has pretty good selections," she commented in appraisal of the one-hundred-disc player, listing as favorites Billie's Blues (a Billie Holiday CD donated by math professor Bonnie Shulman), The Rocky Horror Picture Show (donated by Dave Perreault of dining services), andArrested Development (donated by Alicia Moore '96).
Not everyone on campus knows of the Wurlitzer. When informed of the free music arrangement, historian Jim Leamon seemed pleasantly surprised and vowed to visit the Den more frequently. A country-western fan, he now plans to meet new colleagues as cuts from Billy Ray Cyrus' Some Gave All (donated by a "Friend of Germaine") orPatsy Cline's Greatest Hits (donated by the Den employees) provide ambience.
But for some, Cline's "Sweet Dreams" would only jangle the nerves. In deference to professors who want peace and quiet for conversation or class preparation, there's an official quiet time — no tunes — between noon and two o'clock. So during lunch, you might hear a colleague slurping seafood chowder but you won't hear cuts from The Beastie Boys (donated by Michael Frankel '96) or K.T. Oslin's Songs from an Aging Sex Bomb. Off, too, goes Julio Iglesias's Crazy (courtesy of Lorraine Fournier of Facility Services). And later to Jimi Hendrix's "We Gotta Live Together."
When the Wurlitzer's plugged back in, the no-pay-to-play policy can lead to some unusual music choices. For example, the eight-year-old daughter of a faculty composer once played "Waterfalls," the TLCCrazySexyCool cut (donor anonymous), six times in a row just to annoy her teenage brother.
Up, Down, In, Out
Outside, on the lakeside terrace, an array of chocolate-covered fruits and creme-filled horns, lit by candles, tempted guests.
Inside Olin Arts Center, visitors to the early-September art opening mingled with exhibiting faculty artists. Together, they all celebrated the opening of two tenth-anniversary exhibits at the Bates Museum of Arts.
The upstairs gallery featured faculty works by multimedia artist Robert Feintuch, photographer Elke Morris, printmaker and painter Donald Lent, ceramicist Paul Heroux, and painter Joseph Nicoletti. A downstairs exhibition highlighted works from the museum's permanent collection, along with "Modern Artists and Book Illustration," curated by Amy Peters '96 through an internship coordinated by the museum and the Department of Art.
"I'm happy to be seen in the same space as one of Don's watercolors," Dennis Grafflin, professor of history, said, his contentment reflecting an enormous admiration for Lent's pencil and brush work. Chatting with visiting friends and admirers, Lent posed for photographs and perhaps overheard other approving murmurs wafting his way.
Charles Nero, associate professor of rhetoric, commented on Paul Heroux's ceramic vessels as an attractive merger of "design and color," pausing briefly to field a greeting from Paula Matthews, associate Ladd librarian. Jim Parakilas, associate professor of music, and just back from a twelve-month leave, remarked of the evening festivities: "It's a great way to start the academic year."
Faculty Win Promotions, Tenure
Two members of the Bates College faculty have been promoted to the rank of professor and seven others recently were awarded tenure and named associate professors, announced Martha A. Crunkleton, dean of the faculty and vice president for academic affairs.
Promoted to professor were Steven L. Hochstadt (whose popular Holocaust course was profiled in the summer Bates Magazine) and Elizabeth H. Tobin, associate professors of history.
Appointed as associate professors were the following assistant professors: Charles "Val" Carnegie of Lewiston, anthropology; James Hughes, economics; Francisca López, Spanish; Kathryn Low, psychology; Charles Nero, rhetoric; Erica Rand, art; and Kirk Read, French.
The new appointments take effect with the 1997-98 academic year.
Hochstadt and Tobin, who are married, share a position in the Department of History. Both teach European history. They joined the Bates faculty in 1979.
Hochstadt has studied Jewish refugees in Shanghai during World War II and conducted research in Berlin and Jerusalem. He is vice president of the Holocaust Human Rights Center of Maine.
Tobin, former director of the women's studies program at Bates, has written and lectured on such topics as women's autobiography and women in the former East Germany. She has studied extensively in Germany and is a founding member of the Maine Women's Studies Association.
Carnegie is a specialist in the anthropology of the Caribbean, having published scholarly articles on migration and trade in the region. He also teaches in the African American studies and American cultural studies programs at Bates.
Hughes teaches courses in labor economics and environmental economics, among others. He also has written extensively on personal-injury litigation and malpractice reform.
López teaches courses in Spanish literature and also teaches in the women's studies program at Bates and is the author of the book Myth and Discourse in the Feminine Novel in Spain.
Low, an authority in behavioral medicine, has written and lectured on topics including anxiety in women and risk factors in heart disease. Her courses at Bates include abnormal psychology and health psychology.
Nero specializes in African American rhetoric and teaches in the African American studies and American cultural studies programs at Bates. He has lectured on such topics as AIDS counseling and African American gay literature.
Rand is the author of the book Barbie's Queer Accessories and an observer and critic of American popular culture. At Bates she teaches American, modern European, and contemporary art, as well as a Short Term course in cultural criticism.
Read, who teaches French literature and drama at Bates, has written on women authors in sixteenth-century France and served on the editorial board of the journal Critical Matrix. He won Bates's 1996 Kroepsch Award for Excellence in Teaching.
Four Take Seats as Trustees
Four Bates alumni have been appointed to the College's Board of Trustees.
Victoria Aghababian Wicks '74 of Westfield, New Jersey, was elected by the Trustees to a lifetime appointment on the Board of Fellows.
Elected by the Alumni Association to five-year terms on the Board of Overseers were David L. Foster '77 of New York City; and Beatrijs Stikkers-Muller '81 of Wachtberg-Adendorf, Germany.
Earlier this year, David W. Parmelee '64 of West Hartford, Connecticut, was elected by the Trustees to the Board of Overseers, filling a vacant position whose term expires in 1997.
The Board of Trustees also voted recently to award emeritus status to three retiring members of the Board of Fellows, and expressed appreciation to three departing members of the Board of Overseers.
Named trustees emeriti were Weston L. Bonney '50 of Portland, former chairman of Peoples Heritage Financial Group; Lincoln F. Ladd of Wayne, a retired teacher and a director of the Lincoln and Therese Filene Foundation and the Helen and George Ladd Charitable Corporation; and Frank P. Wendt of Southport, Connecticut, former chief executive officer of the investment firm John Nuveen & Company.
Concluding their service with the Board of Overseers were Kathleen M. Fisher '76 of Brooklyn, New York, a vice president at the banking firm J.P. Morgan; Linda Erickson Rawlings '76 of Oakland, California, president of Otis Spunkmeyer, Inc.; and Sarah M. McGinty '67 of Upper Montclair, New Jersey, preceptor at Harvard University.
Bates's Board of Trustees consists of fellows, who hold lifetime appointments, and overseers, who serve five-year terms.
Wicks, who was a member of the Board of Overseers from 1989 to 1994, is president and chief executive officer of HIP Health Plan of New Jersey in North Brunswick, N.J.
Foster is president of the Institute of Management and Administration (IOMA), a New York City electronic and newsletter publishing company he founded in 1982. He has been active in professional organizations and is president-elect of the Newsletter Publishers Association. Foster has served as president of the Alumni Council and is secretary of his class and an Annual Alumni Fund class agent. He also serves on the Bates Magazine Advisory Board. Foster earned his master's degree from the University of Wyoming.
Stikkers-Muller, a native of the Netherlands, graduated cum laudefrom Bates and was elected to Phi Beta Kappa. She earned a master's degree at the Woodrow Wilson School of Princeton University in 1984 and went on to work in corporate finance with the banking firm J.P. Morgan. She then moved into the field of development finance, serving on the supervisory boards of development banks in Zimbabwe and Botswana, among others. While living in Prague, she was president of that city's International Women's Club and initiated several community-service projects. She has been an active volunteer in Bates' Alumni-in-Admissions program.
Parmelee, who has spent twenty-six years in banking, is executive vice president in charge of the national banking department at Fleet National Bank of Connecticut. He serves as a director of the One Thousand Corporation and the Greater Hartford Easter Seal Rehabilitation Center, and is a trustee of several foundations. He is chairman of the Annual Alumni Fund.
Olympic Memories Still Burn for Bates Visitors
When James Reese, associate dean of students, dressed for an evening of centennial Olympic track and field events in Atlanta this past summer, he decided to wear a Bates T-shirt. "I'll meet someone from Bates tonight," he confidently told relatives accompanying him.
They were skeptical. But at the evening's end, a young man approached him to comment, "Nice shirt." It was David Ennis '99 of Northfield, Minnesota. "See, I told you!" said Reese, whose family was almost as amazed by his prediction-come-true as they were by the record-breaking performances they had just witnessed.
Members of the Bates community who attended the Atlanta games were awed by the flood of humanity. "There were a million people there but that was the fun of it," said Stacey Watts, head coach of field hockey and women's lacrosse, who may have set her own world record by attending and videotaping eleven field hockey games in three days. This fall, her Bates varsity players are watching these Olympic matches so "they can view another level of play and also see what's going on in other countries," she said.
Steve Hochstadt and Liz Tobin, husband-and-wife faculty members in the history department, attended the games with their two children. "The best thing about the Olympics in person was that it was not the Olympics on TV," Hochstadt said. "Besides all of the justified criticisms about unthinking chauvinism, commercialism, and lack of real understanding of most sports, TV left out the most numerous Olympians: the spectators."
Despite the prevalence of "American commercial nationalism, every nation was represented by their fans," Hochstadt said. "This form of sports nationalism is no different from rooting for the Knicks; you can still share binoculars with your neighbors while you root for your shot-putter to beat theirs."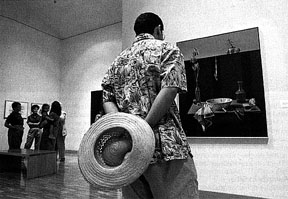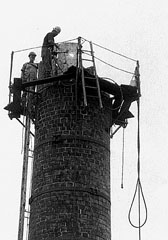 Again Those College Rankings
The annual dose of angst provoked by the U.S. News & World Reportcollege-rankings issue was especially sharp at Bates this year. The College, although still among the top twenty-five "national liberal-arts colleges," dropped from eighteenth to twenty-second. As it often does, the magazine's methodology shifted slightly this year, making detailed comparisons difficult between last year and this, but it appeared that financial resources had a lot to do with Bates's failure to make headway against its competitors.The College ranked especially low (sixty-third) in the "alumni giving" category, which looks at the percentage of alumni making gifts to their college's annual fund. However, Bates alumni should be aware that the low ranking was based on participation in 1994-95 Annual Fund, not the 1995-96 Fund, which shot up seven percentage points to 47 percent.
Newcomers to the college-guide jungle this year were joint-effort publications put together by Newsweek and the Kaplan Educational Centers, and by Time and the Princeton Review. They did not rank categories of colleges as does U.S. News, but rather grouped them according to somewhat eclectic themes. In the Newsweek publication, Bates was mentioned as an "All-Round Gem."
Money for Your Brain
It doesn't take a brain surgeon to figure out that if students are presenting neuroscience research at professional conferences, it might be time to actually offer a major in neuroscience.
Such is the situation at Bates. And as a result of a recent $600,000 grant from the Howard Hughes Medical Institute, the College will begin designing a formal major in neuroscience.
While neuroscience is not a formal major at Bates now, students have for several years been able to design interdisciplinary majors involving neuroscience, or involve neuroscience in traditional science majors such as psychology. With the support of a previous Hughes grant received by Bates in 1993, neuroscience students have been able to attend scholarly meetings with their professors.
Last spring, psychology major Ellen Mahoney '96 of Needham, Massachusetts, and biopsychology major Shiuli Mukhopadhyay '96 of Ahmedabad, India, presented their senior thesis research at the fifth International Behavioral Neuroscience Society Conference, a worldwide gathering of behavioral neuroscience researchers. They attended the Cancun, Mexico, conference with their thesis adviser, Cheryl McCormick, assistant professor of psychology.
Although very few undergraduate participate in research conferences, "it's an invaluable experience and students find it tremendously beneficial," said McCormick. "Doing a canned lab as part of a course, where you know the results beforehand" can't match the experience of presenting real research at a professional conference.
The new Hughes grant will support curriculum development in neuroscience, as well as summer faculty development institutes and a mathematics resource center on campus.
Since 1988, the Hughes Institute has awarded more than $335 million to more than 220 institutions of higher learning to support undergraduate education in the life sciences. Bates is one of fifty-two schools sharing $45.4 million in the latest round of Hughes grants.
Grants Worth a Thousand Words
Thanks to two recent grants, the Museum of Art will use its collection as a tool for teaching writing skills to approximately 250 local middle-school students. Coached by Bates students, particularly education students and museum interns, they will discuss and write about art.
The program is called the Thousand Words Project, and it has received an $8,000 grant from the Arthur and Helen Baer Charitable Foundation of St. Louis, Missouri and a $2,500 grant from the Kenduskeag Foundation, a regular supporter of the museum's community programs.
The Bates museum, in collaboration with the North Dakota Museum of Art, has also received a grant of $15,000 from the Richard Florsheim Art Fund to support the publication of an exhibition catalogue of Claire Van Vliet's prints and drawings. The exhibit catalogue will present a selected survey of fifty prints and drawings from 1950 to the present and be accompanied by text written by Genetta McLean, director of the Bates museum, and Laurel J. Reuter, CEO and director of the North Dakota museum.
Correction
On page 29 of the President's Report in the summer Bates Magazine,under the category Current Funds – Revenues, the fiscal 1995 tuition and fees revenue should read $32,902,923, not $39,902,923.