Sports Notes
Just Do It – For Mom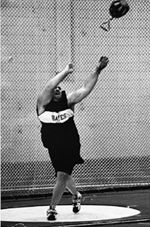 Right: Billy McEvilaBates weight thrower and tricaptain Billy McEvila had no illusions about winning a national championship-it just happened that way.
But then, the junior from Hartford, Connecticut, seeded fifth in his event at the NCAA Division III championships held in March at Brandeis University, had a special incentive.
"It's the first meet that my mother has gone to this year," said McEvila, whose second toss with the thirty-five-pound weight-fifty-eight feet, ten inches-was a personal best, redeemable for a championship plaque.
Aside from a first-place finish at an intrasquad meet early this season, said Bates head coach Al Fereshetian, the national championship was "the first competitive meet he's won this year. There are times in this sport that you get surprised as a coach, and this was a surprise. Billy's timing couldn't have been better."
McEvila thus became the first national champion coached by Fereshetian and thirteen-year Bates weight coach Joe Woodhead (see sidebar).
Not bad for a young man who came to Bates to play football "with a little track, perhaps, on the side."
McEvila, whose teammate, fourth-seeded Lucas Adams '00 of Nottingham, New Hampshire, took sixth and thus joined him as an All-American, passed up college football after his first year at Bates. A shot putter in high school, McEvila was introduced to the weight throw by Woodhead after his arrival in Lewiston, and it became his specialty.
But not without some self-doubts at first.
"Billy was throwing at forty-two or forty-three feet early in his freshman year, but he was up to forty-eight feet at the end," recalled Fereshetian. "He was always finishing fifth behind four other teammates in the weight throw, but I kept telling him that he was also finishing fifth overall at meets and that he had a good future ahead of him."
Going from throwing a twelve-pound shot to a thirty-five-pound weight in college was not an easy transition.
"I had two teammates who went to nationals my first year, and I wasn't close to them," he said. "But I qualified for the ECACs [where he threw forty-eight feet] and finished seventh." Last year, he had a toss of 53-11 in the national indoor meet in Wisconsin, and when he cracked fifty-seven feet this year, McEvila was an automatic qualifier for the NCAA Division III meet.
"After last year's nationals, I knew I could do better, but I didn't expect this," he said with a smile. "Third or fourth would have made me happy."
Several hours after winning the meet, McEvila was "still in shock. It hasn't kicked in yet. Having my mom, Patricia, here was great."
He was heading home to Hartford after the meet, his first trip back in many weeks. With some special hardware for the mantel packed safely away.
By Marvin Pave. Reprinted with permission of The Boston Globe.
Woodhead Throws His Weight Around Imagine the microwave oven in your kitchen. Lift it off the counter. Now, how far could you throw it, being careful to stay in a circle eight and a half feet across?
Assuming a typical microwave weighs about thirty-five pounds, Bates assistant track coach Joe Woodhead is the man to teach you how to get some distance, the way he taught junior Billy McEvila to toss the weightfifty-eight feet.
For thirteen years, Woodhead has coached the Bobcat throwers. His coaching has produced fourteen All-Americans.
In McEvila, Woodhead has now coached his first national champion. "I would not have been here if it wasn't for coach Woodhead," said McEvila. "He is such a great teacher."
For Woodhead, preparation is key. He likes to go over the fundamentals with his athletes during the week, letting them think during practice and just throw during the meets. "Joe prepares his athletes so well for the championships," head coach Al Fereshetian said.
Woodhead enjoys the fact that none of his throwers have ever thrown a thirty-five-pound weight before coming to Bates. The only state that sponsors the event in high school is Rhode Island, and the top throwers there end up at Division I programs.
Woodhead sees his athletes progress from first-year throwers who throw forty-six feet and barely place at the regional championships (as McEvila did his first year) to qualifying for nationals. "It is a difficult event," Woodhead said. "You have to get so many components to work together in a small amount of time: technique, footwork, timing, coordination. If even one of them is off, you are not going to throw well."
For a weight thrower, size is helpful, but not necessary. McEvila stands over six feet and weighs 250 pounds, while five-time Bates All-American Joe Welch '94 was five-foot seven and weighed less than 200 pounds. "Strength and speed are really the key," Woodhead explained.
"What has really made the program a success, though, is the dedication of the kids. They put in thirty to thirty-five throws a day. Their goal each season is to make nationals and that makes my job easier."
By Adam Levin
NESCAC Conflict ResolvedPreviously divided over the appropriateness of national post-season play, the presidents of the New England Small College Athletic Conference (NESCAC) came together in April and forged a compromise agreement.
The agreement is designed to strengthen intraleague NESCAC competition. The most significant change is the transformation of NESCAC into what is known as a "playing conference," in which the conference champion in each sport will be eligible for NCAA post- season play. (The exception would be football, where no post-season play is permitted.) The evolution of NESCAC into a playing conference is expected to take up to three years.
Currently, NESCAC does not crown a champion in each sport, and, quite often, more than one NESCAC school in each sport will accept invitations to participate in national or regional post-season championships.
One net effect of the new agreement, then, will be to decrease appearances by NESCAC schools in post-season tournaments. However, competition among NESCAC schools- always top notch-should only grow more lively.
The growing role and importance of post-season play had concerned a number of NESCAC presidents. "The compromise strengthens the conference, acknowledging a role of post- season play, and meets the concerns that led to fracture within the conference," Harward said.
New Coach, New Rules

Mark Harriman, defensive coordinator at Harvard University since 1994, was named head Bates football coach in February.
"Mark's outstanding work at a school with a similar commitment to academics and athletics makes him an ideal fit for Bates," said Director of Athletics Suzanne Coffey.
With Harriman's arrival, Bates announced two changes in the administration of the football program, which has posted a 2-46 record over the last six years.
Bates will increase funding for the coaching staff, enabling the College to hire an all full- time coaching staff for the first time; instead of one full-time assistant and two coaching interns, the team will have three full-time assistant coaches.
In addition, the College has revamped its system for evaluating student-athletes who apply to Bates. A committee of coaches (including Harriman) will have direct input into the admission of athletes who have received top ratings in various sports. "The new system, mirroring the one used by Williams and Middlebury colleges, will help ensure athletic success and academic compatibility," Coffey said.
"It's a new era for Bates football," Harriman told the Portland Press Herald.
A Maine native, Harriman was an All-State performer for Westbrook High School, where he graduated in 1976. At Springfield College, he played under Howard Vandersea '63 (now the Bowdoin football coach) and earned All-New England honors at linebacker. Following graduation, Harriman served as an assistant coach at the University of Maine, Orono.
Harriman has been a defensive coordinator in the Ivy League since 1989, serving at Princeton from 1989 to 1994, a stretch that saw the Tigers win two Ivy titles.
Last year, Harriman's Harvard defense was the only Division I-AA program ranked in the top five nationally in rushing defense, pass efficiency defense, and scoring defense. The Crimson finished undefeated in Ivy League play for the first time ever.
Harriman is the nineteenth head football coach in 103 years of Bates football. He replaces Rick Pardy, who resigned in January to become defensive coordinator at Marist College.
Box Score Forecast?
April featured a New England spring rarity: lots of sunny and warm days. But you couldn't tell by reading some of the Bates baseball box scores. One mild afternoon saw senior Chris Snow pitch a complete-game victory for the Bates baseball team in an 8-6 win over Colby-Sawyer. His catcher? Sophomore Frost Hubbard. The battery, then, belied the weather: Snow…to…Frost.