Bates Bubble
Floating in a Bates Bubble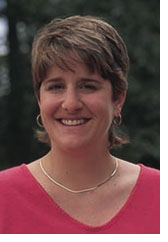 Every college student remembers the feeling: Wrapped in a campus cocoon, you become oblivious to the outside world. An earthquake in Chile? Market crash on Wall Street? Sorry, haven't heard; paper due tomorrow.
Bates students call it "the Bates bubble," a phrase coined a dozen years ago by Laura Young Connelly '88, who now lives in Cape Elizabeth.
During her first year at Bates, she took Professor Garold Thumm's political science course. Part of the grade depended on keeping up with current events, but Connelly was negligent. When Thumm asked her to answer a current- events question, she replied, "I'm sorry, I don't know. I feel like I've been in a bubble at Bates."
The simile stuck with her. A year later, as WRBC news director, she devised a scheme to get people to listen to the radio news show. "We printed up flyers one day and put them out in Commons. They read, 'What is the Bates bubble?' The next day I put it out again. People began to talk about it."
A third poster posed the question again but added a kicker: "What is the Bates bubble? Listen to WRBC." A promotional spot on WRBC not only revealed the answer but gave Connolly's advice on how to break the bubble: Listen to the news on WRBC.
The rest, as they say, is linguistic history.
— H. Jay Burns