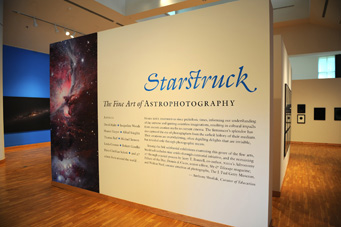 Teachers Workshop
Friday, August 24, 2012 — 2:00pm

Bates College Museum of Art
75 Russell Street
Lewiston
,
ME
04240
show map
The Bates College Museum of Art hosts a Teachers' Workshop in association with its featured exhibition Starstruck: The Fine Art of Astrophotography, from 2-4 p.m. on Friday, August 24 at the Bates College Museum of Art.
Starstruck features 106 images by 37 artists from 5 continents.  The photographs are installed in groups dealing with the Sun, the Earth, the Moon and Planets, Stars, Star Birth, Star Death, and Galaxies.  Some are of historic significance, such as the first photograph of the solar analemma, and the largest image of an external galaxy.  Astronomy is at the very center of the physical sciences, and, due to its importance throughout history, it is related to every subject across the liberal arts curriculum.
The Teacher's Workshop will include an introduction to the exhibition; presentations of strategies by two local teachers: Nancy Flick ( 4th Grade) and Joyce Bucciantini (Middle School), who have developed units incorporating Starstruck in their teaching;  schedule of fall Starstruck events open to the public;  a bibliography of children's books dealing with astronomy; and hands-on activities for all ages levels; a copy of the Starstruck poster for your classroom; and refreshments.
This workshop is FREE, but space is limited and advance registration is required.  To reserve your place, please contact Anne Odom at aodom@bates.edu or call 207-786-8212.