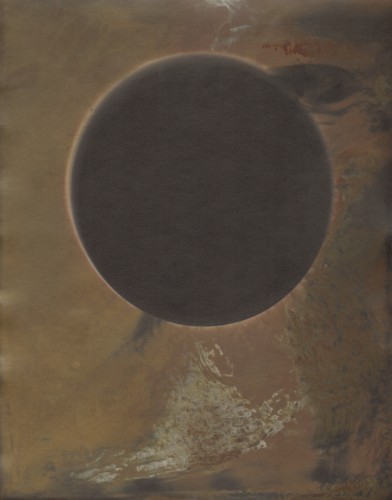 Artist Lecture by Jacqueline Woods
Thursday, October 11, 2012 — 6:00pm

Bates College Olin Arts Center,
Olin 104
75 Russell Street
Lewiston
,
ME
04240
show map
California artist Jacqueline Woods discusses her work in an artist's talk titled "Discovering the Black Sun" at 6 p.m. on Thursday, October 11in Olin Arts Center room 104, sponsored by the Bates College Museum of Art in association with its exhibition Starstruck: The Fine Art of Astrophotography.  A reception in the Museum follows.  The public is welcome, free of charge.
Woods is one of nine invited artists whose work forms a core around which the juried portion of the exhibition was built.   Her cameraless photographs in Starstruck are inspired by celestial phenomena such as eclipses, and are a response to historic photographs by Ansel Adams and Minor White.  "As noted art historian Weston Naef mentions in his essay in the Starstruck catalogue," says Anthony Shostak, the Museum's Curator of Education and the organizer of Starstruck, "Photography is often a jousting match between truth and fiction.  Woods is an artist whose works cause us to rethink our assumptions about photography and the photographic process."
Starstruck is an ideal exhibition for teachers in all levels of education to engage with art related to a variety of subjects including astronomy and physical science, history, geography, literature, religion, and math.  Group tours are welcome by appointment: (207) 786-8302.
The Bates College Museum of Art is open free to the public Mondays through Saturdays 10-5, and Wednesday evenings September through May until 9 p.m.  For directions and more information about events, please visit bates.edu/museum/.