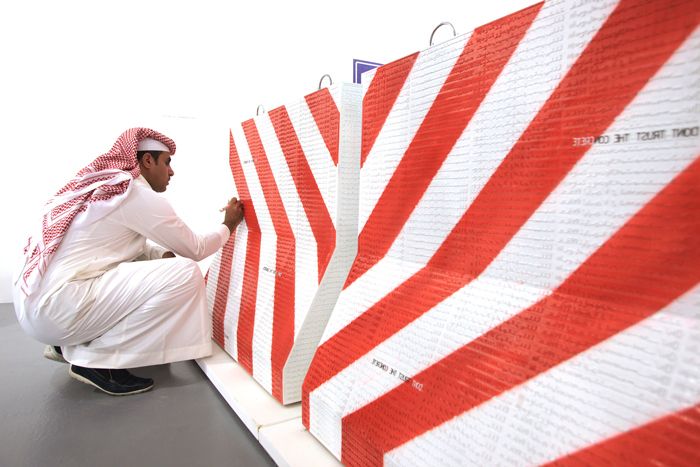 Artist's Talk with Distinguished Lecturer Abdulnasser Gharem
Thursday, January 26, 2017 — 6:00pm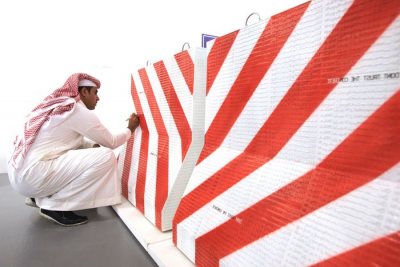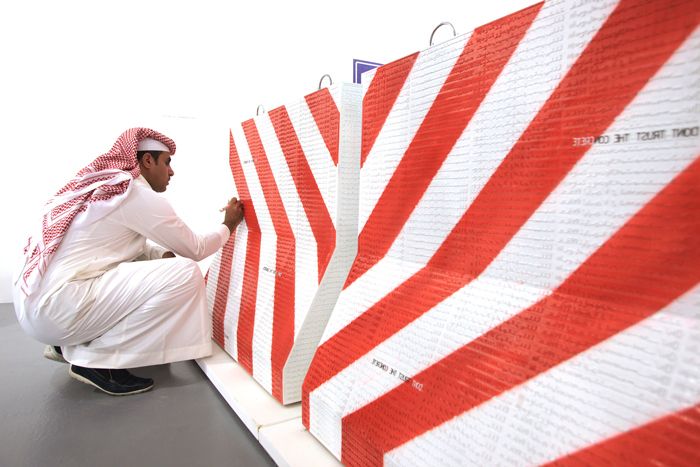 As part of the programming surrounding Phantom Punch: Contemporary Art from Saudi Arabia in Lewiston, noted Saudi Arabian artist Abdulnasser Gharem will lecture on his work.
Abdulnasser Gharem is recognized as one of the most influential Saudi Arabian artists today. He is an artist and until retiring in 2014, a Lieutenant Colonel in the Saudi Army.
Gharem is a conceptual artist who operates over a multitude of fields including photography, video, performance and sculpture. His work challenges the perception of art and visual culture in his native Saudi Arabia. His seminal work Siraat (The Path) (on view in Phantom Punch) was a controversial clarion call for social action and engagement with both personal and shared histories. In a four-day, meditative performance, he and his colleagues covered the buttress of a destroyed bridge thousands of times with the word "siraat" in memory of the tragic collapse of the bridge during a flood in a mountainous valley below the city of Abha in the southwest of the Kingdom. Although many people died, the incident was never reported in Saudi newspapers. Gharem highlights the significant role that official censorship in the Saudi media has had in shaping social realities as understood by Saudis themselves. The Path was subsequently censored from an exhibition, an unintended performance of the way official narratives continue to shape public awareness of national history. From this point on, Gharem began to incorporate thousands of rubber stamps into his work in order to protest the ease with which official institutions construct and enforce binding codes and practices.
Abdulnasser Gharem was born in 1973 in the Saudi Arabian city of Khamis Mushait. He graduated from the King Abdulaziz Academy in 1992, before attending the Leader Institute in Riyadh. In 2003, he studied at the influential Al-Meftaha Arts Village in Abha and, in 2004, Gharem and the Al-Meftaha artists staged Shattah, a group exhibition that challenged existing modes of art practice in Saudi Arabia. Since then, Gharem has exhibited in Europe, the Gulf and the USA, including at the British Museum, Edge of Arabia/London, Victoria & Albert Museum, Martin-Gropius-Bau, Berlin, and the Venice (2011, 2009), 8th Sharjah (2007) and Gwangju (2010) Biennales. Abdulnasser Gharem: Recent Works will be on view at Los Angeles County Museum of Art April 6 – July 2, 2017.
Reception to follow in the Museum
More:
Artist Nurtures a Creative Oasis in Conservative Saudi Arabia
http://www.nytimes.com/2016/04/16/world/middleeast/abdulnasser-gharem-saudi-arabia.html
Can art stop jihad?
https://www.theguardian.com/artanddesign/2015/sep/28/can-art-stop-jihad
Saudi Soldier Questions Authority With Art (And Plastic Wrap)
http://www.npr.org/2013/11/08/243492165/saudi-soldier-questions-authority-with-art-and-plastic-wrap
Supported by the Museum Synergy Fund