---
Selections from Berenice Abbott's Portrait of Maine
September 13 – December 14, 2013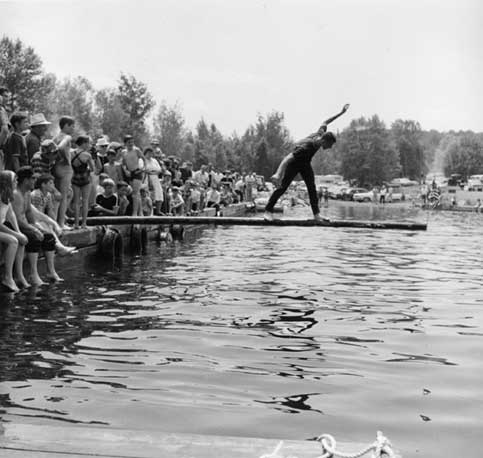 The challenge for me has first been to see things as they are, whether a portrait, a city street, or a bouncing ball. In a word, I have tried to be objective. What I mean by objectivity is not the objectivity of a machine, but of a sensible human being with the mystery of personal selection at the heart of it. The second challenge has been to impose order onto the things seen and to supply the visual context and the intellectual framework-that to me is the art of photography.
–Berenice Abbott
As one of the pre-eminent American photographers of the 20th century, Berenice Abbot (1898-1991) is well known for her portraits of artists and intellectuals in Paris in the 1920's, her iconic photographs of New York City from the 1930's, and her pioneering scientific photography of the 1940's and 50's. After falling in love with Maine and moving to Monson in the 1960's, however, Abbott also created a significant body of work documenting life in her new home state. Abbott's Portrait of Maine (1968), a project on which she collaborated with writer/artist and friend Chenoweth Hall, was her final book and consists of photographs in Abbott's signature documentary style from across the state.  This exhibition consists of a selection of the photographs from Portrait of Maine related to logging practices and culture in the mid 1960′s. Abbott received an honorary degree from Bates College in 1977.
Contact Us
Hours
Monday – Saturday, 10 a.m.-5 p.m.
Wednesday evenings until 7 p.m. during the academic year
Closed between exhibitions, see exhibition page for dates.