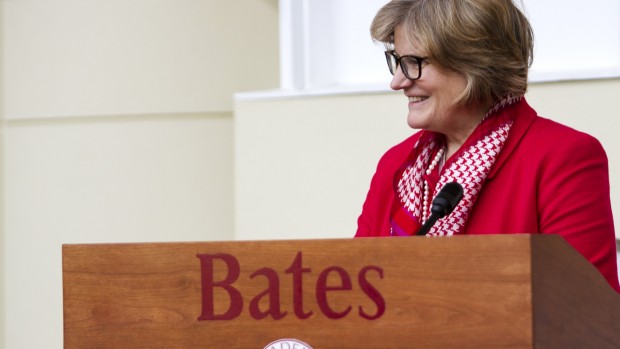 "We have ambitious goals for Bates, and I am inspired by this outpouring of support from the college community," said President Clayton Spencer.
Published on
Description

---

April 30, 1997
4:23 pm

Bates College is one of 10 colleges and universities competitively selected to participate in a three-year initiative designed to strengthen undergraduate science for women.

April 30, 1997
4:19 pm

A noted church historian will deliver the annual Bertha May Bell Andrews Memorial Lecture at 7:30 p.m. May 5, in the Edmund S. Muskie Archives, 70 Campus Ave. The public is invited to attend free of charge. Dorothy C. Bass, director of the Valparaiso Project on the Education and Formation of People in Faith, will discuss "The Fullness of Time: Patterns of Work, Rest and Renewal in Faith and Culture."

April 23, 1997
4:15 pm

"Almost an Evening of Jazz," a concert of jazz standards and original works, will be performed by Sandy Parakilas, Nils van Otterloo and Ethan Rowe at 7:30 p.m. May 5, in the Olin Arts Center Concert Hall, 75 Russell St. The public is invited to attend the free concert.

April 22, 1997
4:11 pm

The Mid-Coast Chamber Orchestra, conducted by Paul Ross, will perform an all-Brahms program at 7:30 p.m. Saturday, May 17, in the Olin Arts Center Concert Hall, 75 Russell St. The program, featuring solo performances by cellist Eleesa Collinson and violinist Matthew Szemela, includes "The Academic Festival Overture," "Variations on a Theme of Joseph Haydn" and "Concerto in A Minor for Violin and Cello."

April 18, 1997
4:05 pm

Winter's passing will be noted with a hat off to spring when the Androscoggin Valley Community Orchestra (AVCO) performs its next concertat 8 p.m. May 3, in the Olin Arts Center Concert Hall, 75 Russell St.

April 17, 1997
3:52 pm

Gov. Angus King will speak on "Leadership: Reflections at Midterm," at 4:30 p.m. April 29, in the Benjamin Mays Center.

April 15, 1997
3:47 pm

Max Oelschlaeger, author of "Caring for Creation," will deliver the inaugural Philip J. Otis Lecture at 7:30 p.m. April 29, in Chase Lounge, 56 Campus Ave. The lecture will focus on the relationship between human culture and the natural world. The public is invited to attend and admission is free.

April 14, 1997
3:07 pm

Eight Bates employees who have retired or will retire this year will be honored at the annual Employee Recognition Luncheon on Thursday . The noon luncheon and award ceremony will be in the Clifton Daggett Gray Athletic Bui lding. Retirees who have more than 10 years of service to the college will receive a Bates gift chair.

April 9, 1997
3:05 pm

Mighty Cloud of Fiddlers, a group of Maine fiddlers who play a traditional mix of Quebecois, Yankee and Scots-Irish music, will play a contradance at Bates College on April 25.

April 9, 1997
2:59 pm

Bates College junior Joshua Baschnagel of Etna, N.H., is the first Bates student to be named a Regis Maine Scholar of the Marshall Undergraduate Scholars Program, announced Martha C. Crunkleton, vice president for academic affairs and dean of the faculty.