Nine named to fall All-NESCAC teams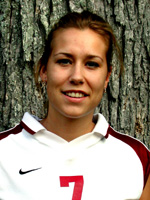 Nine Bates College fall student-athletes have been named to their New England Small College Athletic Conference (NESCAC) All-Conference teams so far this season.
Senior Lauren Fennessey of Joplin, Mo., and sophomore Liz Wanless of Belleville, Ill., were named All-NESCAC from the volleyball team. Fennessey was named NESCAC Defensive Player of the Year for the second time. She and Wanless were both named to the All-NESCAC second team.
Fennessey, a co-captain, was named to the All-NESCAC second team for the second year in a row. One of two Bobcats to play in all 127 games this season, she led the team with 554 digs (4.36 digs per game), second in the conference. She also led the team with 130 service aces (1.02 aces per game), ranking as high as 18th in NCAA Division III play. Fennessey was second on the team with 319 kills (2.51 kills per game) and 205 assists (1.61 assists per game). She was named Most Valuable Player as Bates won the Bridgewater State College Invitational Sept. 21-22 and was named NESCAC Player of the Week Sept. 24. Fennessey was also honored by the Maine Volleyball Coaches' Association as the Maine Player of the Year.
Wanless was named to her second All-NESCAC team, getting second team honors after earning first-team and Rookie of the Year honors in 2000. She led the Bobcats and was second in the league with 550 kills and 4.58 kills per game, 18th in Division III. Wanless also topped the team with a .259 hitting percentage and was second to Fennessey with 75 service aces. Wanless joined Fennessey on the All-Tournament team at the Bridgewater State Invitational and was also named to the All-Tournament team at the Bates Invitational Sept. 28-29, helping the Bobcats to a third-place finish. She was also named to her second All-Maine team.
Senior goalkeeper Dan Spector of Framingham, Mass., and junior back Jeff Critchlow of Carlisle, Mass., were named to the All-NESCAC men's soccer second team.
Spector, a tri-captain and 1999 All-New England selection, earns his first All-NESCAC honor. He stopped 64 of the 81 shots he faced this season, giving him a .790 save percentage and a 1.18 goals-against average, fifth-best in the NESCAC. Spector recorded 2.5 shutouts in 2001, giving him 17.5 for his career and making him Bates' all-time leader in that category. His two complete-game shutouts came against the University of Southern Maine Oct. 2 and against Colby-Bates-Bowdoin (CBB) rival Colby College Oct. 27. That game ended in a 0-0 tie, the second of Spector's career, and also clinched the Bobcats' spot in their first NESCAC tournament. Spector made a season-high 10 saves in another overtime contest, 1-1 against conference runners-up Middlebury on Oct. 14, a day after breaking his hand in another 1-1 conference tie at Wesleyan. Spector played every moment of Bates' final four games with a broken hand. In addition to his 17.5 shutouts, Spector posted a 1.12 career goals-against average and an .806 career save percentage.
Critchlow was one of the Bobcats' top backs for a team that allowed just 17 goals in 15 games this season. He also scored his second career goal Oct. 20 against Connecticut College on a free kick which proved to be the game-winner. Critchlow enters his senior season with two goals and two assists for six points. He is also a member of the Bates men's lacrosse team.
The Bobcats' two first-team All-NESCAC honorees are Justin Easter of Jay, Maine, for men's cross country and Krissie Whiting of Contoocook, N.H., for women's soccer.
Easter finished fourth at the NESCAC men's cross country championships at Bowdoin College Oct. 27, earning first-team All-NESCAC honors for the first time in his cross country career. A two-time All-American for the Bobcats in the steeplechase during the outdoor track and field season, Easter has been the Bobcats' top finisher in five of their six races this season. He finished the 5K course in 25:14, shaving 16 seconds off his time from his second-place finish at the State of Maine championships on the same course three weeks earlier.
Whiting, a junior midfielder, was named to her fourth All-NESCAC team. She was a second-team selection in soccer in 2000 and is a two-time All-Conference performer in softball. Whiting was fifth on the team with four goals, tops among Bates midfielders, and sixth with eight points, second on the team at her position. Three of her four goals came in wins over conference opponents, including game-winners over Tufts Sept. 29, and Colby Oct. 10. With 30 points in her career, Whiting will be the Bobcats' top returning scorer in 2002.
Three Bobcats, including two other women's soccer players, earned second team All-NESCAC honors. Senior forward Kate Dockery of New York, N.Y., earned her first career All-NESCAC nod. She was tops in the conference with 14 goals and second with 32 points this season. Dockery recorded three multi-goal games this season. She scored two goals each in Bates' back-to-back wins against conference foes Trinity on Sept. 22 and Middlebury on Sept. 23, helping her earn NESCAC Player of the Week honors. Dockery also recorded her first career hat trick Sept. 13 against the University of New England and set a Bates College record with nine points on four goals and an assist Oct. 2 against St. Joseph's College.
Junior back Catherine Crosby of Lincoln, Mass., was named to her first All-NESCAC team after earning All-New England status in 2000. She trailed only Dockery with 15 points this season on five goals and five assists. Crosby had two assists in a game twice this season, against St. Joseph's and Trinity. She also scored a goal against the Monks, giving her a career-best four points on the day. Defensively, Crosby was usually called on to mark the opponents' best forward. With Crosby anchoring the backfield, the Bobcats recorded shutouts in eight of their first nine games, including a school-record six-game scoreless streak.
Junior forward Johie Farrar of West Paris, Maine, earned second-team All-Conference honors for the Bates field hockey team. Farrar, who was an All-New England East region selection in 1999, led the Bobcats with 12 goals and 24 points this season. Her 12 goals were the most by a Bates player in more than a decade and ranked her second among NESCAC goal-scorers. Farrar was also fifth in the conference with 24 points. Farrar scored goals in eight of Bates' 13 contests this season, including a school-record four goals in the first half of a 5-4 loss to Tufts Sept. 29. She also scored both tallies in the Bobcats' 2-0 conference win over Trinity Sept. 22. Farrar recorded one other multi-goal game this season, scoring twice in Bates' 6-3 loss at New England College to start the season Sept. 8. "Johie had a phenomenal season this year," said Bates head coach Wynn Hohlt. "Her speed and agility on the field are tough for other teams to contain. Everyone on the team is excited for her to be recognized by the conference."
View Comments