Renowned Guarneri quartet performs at Bates College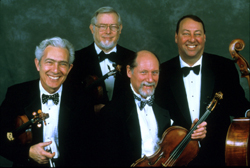 One of the best and best-known American chamber ensembles, the Guarneri String Quartet is coming to Bates College for a rare Maine appearance, performing in the Olin Arts Center Concert Hall at 8 p.m. Sunday, Jan. 6. Admission is $15, except $10 for seniors and students and free for Bates students.
The quartet was founded in 1964 by violinists Arnold Steinhardt and John Dalley, violist Michael Tree and cellist David Soyer. This lineup stayed together until Soyer retired in 2000, a length of commitment unmatched among American string quartets. Peter Wiley, former cellist of the Beaux Arts Trio and once a student of the founding cellist, succeeded Soyer.
The Guarneri String Quartet has mastered the difficult art of transcending the sum of individual parts without sacrificing individuality. The group's decades together have given its members an exquisite attentiveness to and support for one another. The result is cherished for its balance, tonal palette and respect for the composer's intention.
Or, as a writer for the Miami Herald put it, "Some things, like the Guarneri, are as good as it gets."
Based at the University of Maryland, the Guarneri quartet enjoys a touring reputation that's both international and intensely local, with annual recital series at the university and at New York's Metropolitan Museum of Art. (In the 2000-2001 season, it was the only quartet to perform at all of New York City's major venues.)
The quartet has recorded for the Philips, RCA Red Seal, Arabesque and Surroundedby Entertainment labels. It has been the sole subject of three books, including Steinhardt's Indivisible by Four: A String Quartet in Search of Harmony (Farrar, Straus and Giroux, 1998), and a full-length documentary film, Alan Miller's 1989 High Fidelity — The Guarneri String Quartet.
While the quartet may be best-known for its revelatory readings of the standard literature, it also spotlights gems by lesser-known composers and brand-new work. In Lewiston, its program includes an early Beethoven quartet, the high Classical Op. 18, No. 5; Dvorak's mature, lyrical String Quartet in C major, Op. 61; and Witold Lutoslawski's String Quartet, written in 1964 and incorporating chance or improvisational passages.
For more information about this Bates Concert Series event, please call 207-786-6135.
View Comments