Bates College names Elaine Tuttle Hansen next president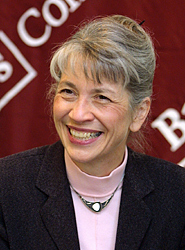 Elaine Tuttle Hansen, provost and professor of English at Haverford College in Pennsylvania, was elected president of Bates College on Saturday, Jan. 26. She will assume office July 1 as the college's seventh president, and first woman president, since its founding in 1855.
The Bates College Board of Trustees unanimously approved Hansen's selection at its winter meeting. She succeeds Donald W. Harward, who is retiring June 30 after 13 years as president.
Burton M. Harris, chair of Bates board of trustees, announced the decision of the board. "Dr. Hansen is first and foremost an educator who throughout a distinguished career has demonstrated her deep understanding and commitment to liberal arts education and the important role it plays in our society," Harris said. "Equally important, Dr. Hansen has the leadership qualities and communication skills that will enable her to lead Bates on its continuing path to greater excellence in fulfilling its mission."
Hansen was the unanimous recommendation of a 16-member Presidential Search Committee, which trustees organized after Harward announced in May 2000 his plans to retire in June 2002.
"A year ago, I said that Bates was in a great position to begin a presidential search," said search committee co-chair Karen A. Harris. "I can confirm today that strength attracted strength; we have a wonderful president-elect in Elaine Hansen. She's terrific, and so were the members and staff of our search committee. It was a thorough and thoughtful process with an excellent outcome."
Fellow search committee co-chair James F. Orr III said Hansen "has the intellectual distinction and the proven leadership skills that we sought, and she sensed the momentum of one of the nation's best colleges of the liberal arts and sciences.  She is a champion for the liberal arts, and she is the right person for Bates."
Haverford President Thomas M. Tritton said Hansen is "uniformly admired and respected at Haverford. We will miss her immensely, but wish her all the best at Bates. Elaine is smart, yet welcoming of diverse viewpoints; elegant, yet approachable; decisive, yet fair. While she will have many ideas of what she wants to accomplish, building and sustaining Bates' academic excellence will undoubtedly be her highest priority."
Hansen, 54, has served as provost and chief academic officer at Haverford since 1995. She has been responsible for the faculty and curriculum, the library and academic computing, Haverford's language learning center, audio-visual services and other academic and instructional support services. The provost serves as chair of the college planning committee.
Hansen received her undergraduate degree in English from Mount Holyoke College in 1969, with greatest distinction, and was elected to Phi Beta Kappa. She earned a master's degree from the University of Minnesota in 1972, and a doctorate at the University of Washington in 1975, both in English literature.
Before coming to Haverford in 1980, she was an associate editor of the Middle English Dictionary at the University of Michigan and taught at Hamilton College. She served as chair of Haverford's English department before becoming provost. The author of several scholarly books and articles spanning medieval to contemporary English and North American literature, Hansen's research explores issues of motherhood, gender and identity, Chaucer and Old English verse.
The president-elect is married to Stanley Hansen, a speech pathologist. They have two daughters, Emma, 19, who is a student at Macalester College in Minnesota, and Isla, 14, a middle-school student.
Hansen said she felt "almost immediately at home as she met the extended Bates community of students, faculty, staff, trustees, alumni and friends from around the country."
"Thanks to their collaborative strivings, Bates is among the very best of a few great institutions still dedicated to a peculiarly American ideal of post-secondary education that is centered on open intellectual inquiry; intense, individualized student/faculty interaction in a historic residential setting; and the ethical values of integrity, egalitarianism, and social responsibility," Hansen said. "At the same time, as I am coming to understand, Bates has its own very special history and character, evident for example in its pioneering commitment to educating men and women of all backgrounds, its place in Maine, and its connections to Lewiston and Auburn. There are firm foundations and high expectations at the college right now, and the opportunity to learn and grow in this presidency is incomparable and compelling."
In her seven years as Haverford provost, Hansen has been involved in the construction of the Marion E. Koshland Natural Science Center, the creation of two more innovative interdisciplinary centers — the Haverford Humanities Center and the Center for Peace and Global Citizenship — and the planning of a new athletic center. She also designed an enhanced sabbatical policy for faculty and oversaw a significant curricular revision of the writing program. Building on her earlier work in developing Haverford's social justice requirement in 1990 and participation in the first Ford Foundation-funded faculty development seminar in this area, as provost she continued to monitor and report to the faculty and the board of trustees on diversity in curriculum and personnel. With colleagues at Swarthmore and Bryn Mawr, Hansen laid the groundwork for a multi-institutional faculty development program, supported by the Mellon Foundation, aimed at promoting reflection and innovation focused on the roles of liberal arts college faculty at different phases of their life course.Working with students responsible for a first-year orientation program, she launched a series of informal, interactive faculty workshops that model from the outset the new kind and level of intellectual engagement to which the college invites incoming students.
Harward and his wife, Ann, who together served Bates for 13 years, will relocate in Washington, D.C., and Maine after June 30. "I am very pleased that Elaine Hansen is the Bates president-elect; she will be superb," said Harward. "We look forward to her service with pride and anticipate her positive leadership."
Last year, the New England Association of Schools & Colleges lauded Bates as a "national liberal arts college of genuine excellence, competing for students with the very best institutions in the country."
Never having fraternities or sororities and the first coeducational college in New England, Bates infused its egalitarian traditions with leading-edge academic initiatives to be recognized as one of the top colleges in the country. The last decade has seen record admissions applications, 10 new academic majors, 13 major building projects, and institutional leadership of a community-development partnership with Lewiston-Auburn called by Maine Gov. Angus King "the most extensive in the history of the state."
Bates is ranked in the top 25 of national liberal arts colleges in U.S. News & World Report, and in the top 20 "toughest to get into" schools in The Princeton Review
Links:
View Comments