Bates to host New England Division III track championships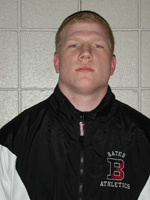 Some of the nation's best track and field teams will be showcased at Bates, this year's host of the New England Division III men's track and field championships.
Seven athletes currently ranked first or second in the most recent NCAA Division III national rankings will appear at the meet. Among the top-ranked athletes is Massachusetts Institute of Technology senior Sean Montgomery in the 800-meter dash. MIT, the 2000 New England team champions and 2001 runners-up, also boasts the top distance medley relay in the nation. Seniors Jason Edwards of Eastern Connecticut State University and Raheim Greenidge of Wheaton College are the top-ranked competitors in the long jump and triple jump, respectively, while Keene State College junior Mark Miller, the defending New England champion, is No. 1 in the 1,500-meter run.
Bates will be represented by senior Jaime Sawler, the defending New England champion in the 35-pound weight throw. Sawler is undefeated this season and ranked second in the nation. Other returning champions are MIT junior Craig Mielcarz in the pentathlon, U.S. Coast Guard Academy senior Jason Haag in the pole vault, MIT junior Brian Hoying in the high jump, MIT senior Dan Feldman in the 3,000-meter run, and Williams College junior Michael Sheehan in the 600-meter run. Williams was the 2001 New England team champion, finishing just ahead of MIT.
The New England Division III meet begins at noon on Friday, Feb. 15, with the pentathlon. On Saturday, the 35-pound weight kicks off the meet at 10 a.m., while the trials for the first running event, the 55-meter dash, begin at 11:30 a.m.
View Comments