Teenage fiddler Erica Brown brings band to Bates College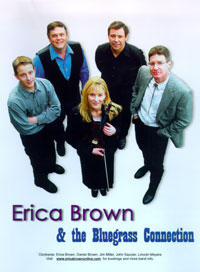 Erica Brown, an 18-year-old Lewiston resident whose violin playing has been turning heads for years, will perform with her band Bluegrass Connection at 7:30 p.m. Saturday, April 27 at the Olin Arts Center Concert Hall, 75 Russell Street. The concert is open to the public. A $5 donation will be requested at the door.
Scion of a musical family of French heritage, Brown has been playing violin in public since she was 7. By age 10, she was performing with the Maine French Fiddlers and the Brunswick Youth Orchestra, and at 15 she released her first recording, Bowing the Strings.
"She's among the top two or three fiddlers in New England," bassist John Rock told the Bangor Daily News. Rock is a member of the Old-Time Radio Gang, a traditional country band with which Brown has often appeared.
Brown's musicianship is especially remarkable because she is equally accomplished in classical and bluegrass music. A student of Ronald Lantz, of the renowned Portland String Quartet, she has played with the Bates College Orchestra for five seasons
Brown's band includes a brother, 15-year-old Daniel Brown, who plays mandolin. The other members of Bluegrass Connection are guitarists Lincoln Meyers and Jim Miller and bassist John Saucier.
For more information about the performance, please call 207-786-6135.
View Comments