Department of Athletics presents 2002 awards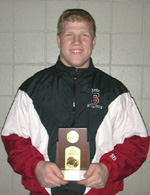 On Sunday, April 7, the Bates College department of athletics held its first awards banquet. Seven awards were presented in front of the assembled population of student-athletes, with master of ceremonies Dan Doyle '72 serving as host.
Department Service Award: The Department Service Award to honor an individual who has demonstrated outstanding service to the Athletics Department, individual programs and Bates athletes was presented to equipment manager Dave Haefele.
In his four years as the Alumni Gym equipment manager at Bates, Dave has been an unsung hero, often going beyond the call of duty to help set up venues or track down a missing piece of a uniform or equipment. In the past two years, Dave, who was an accomplished lacrosse goalkeeper himself in college, has helped out as an assistant for both the men's and women's teams in the spring.
"We all know that great equipment managers make a huge difference in the daily lives of coaches and athletes," assistant director of athletics Dana Mulholland said. "Bates is truly fortunate to have Dave."
Senior Citations: The Class of 2001 Senior Citations were presented to Peg Ficks, Kate Hagstrom and Erik Zwick. Ficks was a two-time All-American goalkeeper for the field hockey team, leading the Bobcats to three straight ECAC tournaments. Hagstrom, a volleyball player, was the 1999 NESCAC Player of the Year who helped lead Bates to the Sweet 16 of the NCAA tournament in her senior season. Zwick, a sprinter who had 12 record-setting performances for the track and field teams, helped the Bobcats win their first-ever NESCAC outdoor track championship in 2000, earning co-most outstanding performer honors at that meet.
George Wigton Scholar: The inaugural George Wigton Scholar Award, given to a junior with a minimum 3.0 grade-point average who has demonstrated leadership qualities reflective of coach long-time men's basketball and tennis coach George Wigton's lifelong commitment to the values of athletic participation and a willingness to participate in a research project that links sport and education, was presented to men's basketball player C.J. Neely.
Captain-elect for the 2002-03 year, Neely started all 24 games in his junior season, finishing second on the team in rebounding and third in scoring. He has been chosen by his teammates as the preseason and practice player of year three years running. With the award, Neely will travel to a Boys and Girls Club of America in a large city in the U.S. to help teach basketball clinics.
Senior Sportsmanship Awards: The inaugural Senior Sportsmanship Awards, given to one male and one female Bates senior student-athletes who, through their actions in the competitive arena, best demonstrated the ideals of sportsmanship, such as fairness, civility, honesty, unselfishness, respect and responsibility, were presented to Liz Coulson of the women's lacrosse team and Kyle Hildebrand of the alpine skiing team.
Coulson, a two-time captain, is Bates' second-leading scorer in 2002 with 31 points. The Bobcats are currently ranked 20th in the nation in the most recent Intercollegiate Women's Lacrosse Coaches' Association Division III poll. Coulson also led the team in scoring as a sophomore in 2000. As the top scorer and a captain in her junior season of 2001, Coulson learned a new position from scratch when the Bobcats' starting goalkeeper was lost with an injury early in the preseason. Despite never having played goal before, Coulson led the Bobcats to a six-game winning streak and berth in the ECAC Division III New England tournament for the first time since 1995.
Hildebrand is one of the most successful alpine skiers in Bates history. He is a three-time All-American and two-time All-East skier who had two career race victories and two second-place finishes, including a runner-up finish in the slalom at the NCAA Championships as a sophomore. In 2001-02, as captain, he qualified for his fourth-straight national championship, where he finished 11th in the slalom. In the fall, Hildebrand also served as the Bobcats' coach. While Bates searched for a replacement for the departed Ric Mackey, Hildebrand organized all the team's off-season dry-land and weight training, ordered the team's equipment, directed captain's practices and helped conduct the search for a new coach, sacrificing some of his own success to help his teammates succeed as well.
Lindholm Scholar-Athlete Awards: The Milton Lindholm '35 Scholar-Athlete Award, named for the college's emeritus dean of admissions, given every year to the Bates senior man and woman who best combine athletic and academic accomplishment by achieving the highest grade-point averages among student-athletes who have won two or more varsity letters, including one during the senior year, was presented to Rebecca Hakala of the women's track and cross country teams and Casey Saenger of the men's swimming and diving team.
Hakala, a captain of the Bates women's cross country and track and field teams, was among the Bobcats' top seven finishers during of the 2001 cross country season. In the 2000 indoor track and field campaign, she was part of a school-record-setting distance medley relay team, running the 800-meter leg. A two-time Academic All-NESCAC selection who has also been named a Dana and a Mitchell Scholar at Bates, Hakala is a mathematics major with a secondary concentration in French. She spent the winter semester of her junior year teaching English and studying French in Montpelier, France. She hopes to return to teach in France upon graduation from Bates.
Saenger is a four-year letter winner for the men's swimming and diving team who specialized in freestyle sprints. His top performances this season came at a Jan. 5 home meet against Norwich University, when he finished third in the 100-yard freestyle and fourth in the 50 free. A geology major, Saenger twice traveled to the Canadian arctic region with Associate Professor of Geology Michael Retelle, working on a study of climate change on Devon Island. He plans to work in the field of geology before returning to graduate school.
Honorary Letter Awards: Honorary letter awards, given to individuals who have demonstrated service and loyalty to Bates College and the athletic program beyond normal expectations or to someone who has distinguished himself or herself by postgraduate achievement in the field of athletics, were presented to Don and Ann Harward.
The Bates president since 1989, either Don or Anne has been present at nearly every home contest. Don has overseen the construction or remodeling of six athletic facilities in his tenure, including the Clifton Daggett Gray Cage, Underhill Ice Arena, the Wallach Tennis Center, Campus Avenue AstroTurf Field, the Lafayette Street softball field and the most recent addition, the Russell Street Track, which saw its first varsity competition on April 6.
"[Don and Anne] have shared in our joy and our grief equally, always setting an example in the ways the very best leaders do–by demonstrating grace and wisdom, patience and persistence," said director of athletics Suzanne Coffey. "I learned a great deal about coaching from the man I have been so fortunate to refer to as 'my' president."
Athlete of the Year Awards: The inaugural Bates Athlete of the Year Awards, given to the male and female athletes who have risen to the highest levels of athletic competition over the past year, were presented to senior Jaime Sawler of the football and men's track and field teams and sophomore Liz Wanless of the volleyball and women's track and field teams.
Sawler made Bates history during the indoor track and field season when he completed an undefeated season in the 35-pound weight throw by winning the NCAA Division III national championship. His throw of 64 feet, 1.75 inches was one-quarter inch shy of a school record. It was the 10th national championship in Bates history, the fourth during the indoor season. Sawler also won Maine, New England Division III and ECAC Division III championships, while finishing third at the New England All-Division championships behind two Division I throwers. A 2001 All-American outdoors in the hammer throw, he recently won his first competition of the spring, missing a Bates College record by less than a foot. In the fall, Sawler was eighth on the football team in tackles.
Wanless was 18th in the nation in kills per game as a member of the volleyball team. The Bobcats reached the semifinals of the NESCAC championships, posting a 24-11 record. She was named to the All-NESCAC second team and All-New England first-team. In the 2001-02 indoor track and field season, Wanless earned her first winter letter. She had a record-breaking season in the shot put for the Bobcats, breaking her own mark three times this winter and ending the season with a top throw of 44-1.5. Wanless earned All-Maine, All-New England and All-ECAC honors, winning the state of Maine championship. She also finished 10th in the nation at the NCAA Division III championships. So far this spring, Wanless has twice broken Bates' outdoor record in the shot put.
View Comments