John Carrafa '76 nominated for 2 Tony Awards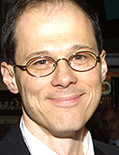 Bates alumnus John Carrafa '76 was nominated May 6 for two Tony Awards for Best Choreography for Urinetown, The Musical and Into The Woods.
The American Theatre Wing's 56th annual Tony Awards ceremony will take place on June 2, 2002 at New York City's Radio City Music Hall. CBS and PBS will broadcast the ceremony live on national television. Broadway shows that opened between May 3, 2001 and May 1, 2002 were eligible for 2002 Tony Awards.
Carrafa, a New York-based choreographer is increasingly well-known in show-business circles, thanks to his work on such projects as the megamusical Dance of the Vampires and the production of The Pajama Game in which Carrafa challenged the Fosse legend with a newly choreographed "Steam Heat."
And all this with a biology degree. "I didn't go to Bates for dance," says Carrafa. Yet he clearly sees a path leading from his present success back to Bates. He is one of countless students who worked with, and was captivated by, longtime dance program director Marcy Plavin.
Plavin exposes her classes to all different styles of dance and to its best practitioners, many of whom she brings to campus. "Marcy helped us have a wider view of what dance was," says Carrafa.
Just as influential was a rigorous intellectual climate at Bates that taught Carrafa the importance of research to the authenticity, the sense of sheer "rightness," that distinguishes a living dance from a mere collection of moves. That kind of perspective can be lost on choreographers who have studied only dance. "Many of the people I work with started dancing when they were teenagers or even younger," Carrafa says. "And that's all they've done."
Leave a Reply
This is a forum for sharing your thoughts about the preceding post with the public. If you have a question for the author, please email the Bates Communications Office at communications@bates.edu.