Dean of Admissions Wylie Mitchell appears on New York public radio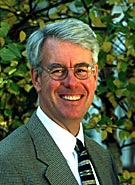 Bates Dean of Admissions Wylie Mitchell appeared on WNYC radio's issue-oriented talk program "On The Line." The topic of the program was "Feeling Testy: Are Standardized Tests Fair?" Guests Mitchell and Rebecca Zwick of the University of California, Santa Barbara discussed the importance of SATs in higher education.
WNYC AM/820 and FM/93.9 is New York's premier public radio station, and is fully independent. "On the Line" is an issues-oriented talk show without political slant, which prides itself in advancing "dialogue, not diatribe." Guests have included many well-known personalities including politicians, authors, journalists, academics, entertainers, and experts from all walks of life, from New York and around the world. The host of "On the Line" is Brian Lehrer.
Listen to clips: Below are selected highlights from the program. Clips are in MP3 format and require an MP3 player. All clips copyright 2002 WNYC radio, New York.
Clip 1: Background on Bates; small and tough school to get into
Clip 2: Why did Bates stop requiring the SAT?
Clip 3: Caller Dan in Manhattan. I'm a Bates alumnus ...
Clip 4: Does Bates have a luxury because you're such a small school?
Clip 5: Caller Maria, a Bates parent in Brooklyn. Hooray for Bates …
View Comments