Coffey honored by Institute for International Sport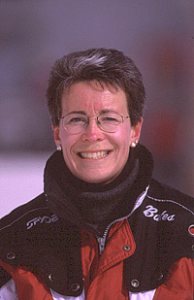 Bates College Director of Athletics Suzanne R. Coffey will be honored June 1 with the Institute of International Sport's (IIS) 2002 Keaney Award at the University of Rhode Island. The Keaney Award, presented every other year by the IIS, is given to educators who personify the scholar-athlete ideal.
An associate professor of physical education, Coffey was appointed director of athletics and chair of the Department of Physical Education at Bates in May 1991. A former coach at Bowdoin College and the University of New Hampshire, Coffey is committed to the enhancement of the principles of education through sport and the fostering of competitive excellence in all Bates athletics programs. A doctoral student at the University of Southern Maine, Coffey has been extremely active with the NCAA governance of Division III athletics, serving on the Joint Subcommittee of the President/Management Councils on the Future of Division III and the NCAA's Management Council. At Bates, she chairs the College's Commission on the Status of Women and the Faculty Committee on Admission and Financial Aid.
The Keaney Award is given in honor of legendary URI basketball coach and educator Frank W. Keaney. Keaney achieved national renown in the 1930s and '40s as the coach of the Rhode Island State (now the University of Rhode Island) men's basketball team. Keaney's career spanned 47 years, the last 32 spent at Rhode Island. A chemistry professor and one-man athletic staff who coached football, baseball, basketball, track and cross country, Keaney became known as "The Menty" to his players and students. "He epitomized the scholar-athlete concept," said his biographer William Woodward, a former URI professor. "A true Renaissance man, he was the embodiment of the high ideals which the Institute for International Sport advocates."
The Kingston, R.I.-based Institute for International Sport was founded in 1986 by Daniel E. Doyle Jr. '72. Administering several international programs that reach more than 180 countries on six continents, the institute uses sport and the cultural arts to promote goodwill among future world leaders.
View Comments