Elaine Tuttle Hansen assumes Bates presidency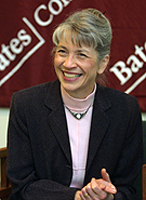 Elaine Tuttle Hansen, former provost and professor of English at Haverford College in Pennsylvania, assumed office July 1 as the college's seventh president since its founding in 1855.
During a Lane Hall intervew  her first day on the job, Hansen told Lewiston Sun Journal reporter Lisa Chmelecki: "I've been at liberal arts colleges forever. It's a world I'm very familiar with. And I've come to appreciate places, like Bates, where every individual matters, but there is a sense of community."
The Bates College Board of Trustees unanimously approved Hansen's selection at its January meeting. She succeeds Donald W. Harward, who retired June 30 after 13 years as president.
Trustee Chair Burton M. Harris called Hansen "first and foremost an educator who throughout a distinguished career has demonstrated her deep understanding and commitment to liberal arts education and the important role it plays in our society."
Hansen was the unanimous choice of a 16-member search committee, which trustees organized after Harward announced his plans to retire in June 2002
Leave a Reply
This is a forum for sharing your thoughts about the preceding post with the public. If you have a question for the author, please email the Bates Communications Office at communications@bates.edu.