November cultural calendar puts theater in spotlight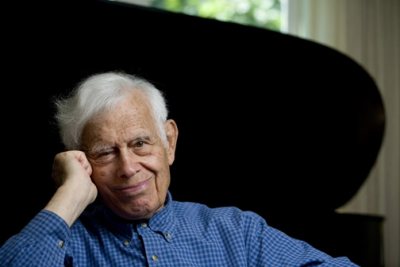 The play's the thing when it comes to November's public arts and entertainment events at Bates College. Two productions are planned by the college's theater program (as well as two by the dance program), and there are two by the student theatrical troupe, the Robinson Players. Other performance highlights for November include two concerts by artist-in-residence Frank Glazer, a pianist of international stature. The month also holds a reading by Camden's own Pulitzer Prize-winning novelist, Richard Russo.
The Robinson Players, one of the oldest student theater companies in the nation, continue an ambitious year with two November productions. David Ives wrote All In The Timing, a collection of absurdist one-acts (Nov. 15-17). Also this month the "Rob Players" present Love Changes Everything, an original cabaret of popular love songs from such Broadway hits as West Side Story, South Pacific and My Fair Lady (Nov. 8-9).
Meanwhile, the Department of Theater and Rhetoric at Bates has its own fish to fry. Professor Paul Kuritz directs Oscar Wilde's sparkling comedy of manners, Lady Windermere's Fan, at the Gannett Theater through Nov. 10 (read more about it here). Starting later in the month (Nov. 19 and 21, Dec. 5-6) is Sex and Death, a collection of one-acts written by Diana Amsterdam and directed by students in Kuritz's directing class.
Finally, students in the department's dance program offer a showcase performance of work by visiting choreographer Sara Sweet Rabidoux on Nov. 15.
On the music front, Glazer is joined on Nov. 9 by his New England Piano Quartette colleague Curtis Macomber for a program of Beethoven violin sonatas. On the 20th, it's just Glazer with music by Schumann, Beethoven, Debussy and Liszt.
On Nov. 15-16, the Bates College Choir sings a cantata from Bach's Christmas Oratorio and Mozart's Solemn Vespers of the Confessor with orchestral accompaniment.
In literature, Russo, who won the 2002 Pulitzer Prize in fiction for his novel Empire Falls, reads from his work on Nov. 14. This Annual Writers Harvest event is sponsored by Bates and the national anti-hunger organization SOS.
Another compelling event in the humanities is a talk on Nov. 11 by Marcus Borg, best-selling author and a professor of religion and culture at Oregon University. His talk is likely to be an attention-getter: The Bible: Instrument of Oppression or Liberation?
In the visual arts, in addition to a lecture by Maine landscapist Joel Babb on Nov. 7, two lectures concern Native American artists: Alyssa Hinton, who uses mixed media to explore the folklore and history surrounding her Native American roots and has the exhibit Spiritual Archaeology at Bates, talks about her work on Nov. 10; and Pheobe Farris, a Purdue University professor of art, design and women's studies, offers a survey of contemporary female Native American artists on the 15th.
View Comments