King Day events feature prominent activist and filmmaker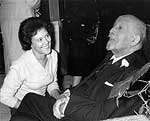 Award-winning filmmaker Joanne Grant, a writer and veteran civil rights activist of the Student Nonviolent Coordinating Committee, is the keynote speaker for the Martin Luther King Jr. Day observances at Bates College.
Scheduled for 1:30 p.m. Monday, Jan. 20, in Alumni Gymnasium, Grant's address is part of a celebration of King's life and work that includes performances, workshops and a debate with Bates, Morehouse and Spelman college participants. All events are open to the public and free of charge. For more information, call 207-786-6229.
"Injustice anywhere is a threat to justice everywhere" is the theme for this year's King Day programming at Bates. The observance begins on the eve of the holiday, at 7 p.m. Sunday, Jan. 19, with a worship service in the College Chapel, on College Street. Marcus Bruce, associate professor of religion and a member of the American cultural studies and African American studies departments at Bates, delivers the evening's sermon. Performances include music by the a cappella groups the Crosstones and the Deansmen, and dance by Bates senior Devon Fitchett of Woburn, Mass., and sophomore Sara Jessee of Roanoke, Va.
Titled "Women in the Civil Rights Movement: Before and After the 1960s," Grant's address punctuates King Day events at Bates. Grant began her career in civil rights as an assistant to NAACP founder W.E.B. DuBois in 1959. Inspired by the power of the media to educate and mobilize communities, Grant has spent her life using pen and camera to fight for social justice. She worked as a reporter covering civil rights news for the National Guardian (1960-65), served as news director for New York's WBAI-FM radio station (1965-66) and developed The Nation's syndicate for news distribution in the mid 1970s.
Grant wrote one of the seminal texts on black activism, "Black Protest History, Documents and Analyses, 1619 to the Present," published in 1968, updated in 1974 and still in print. The New York Times called it "by far the fullest documentary history of three and one-half centuries of Negro-American protest and agitation . . . "
While covering civil rights for the National Guardian and traveling extensively in the South during the early 1960s, Grant joined SNCC and became a close associate of civil rights organizer Ella Baker. As a filmmaker, Grant went on to write, direct and produce "Fundi: The Story of Ella Baker," a documentary film on the life and work of this great activist. It was chosen as an outstanding film of the year at the London International Film Festival and received first place in the Black Filmmakers Hall of Fame, among numerous other honors.
A National Endowment for the Humanities Scholar-in-Residence at the Schomburg Center for Research in Black Culture, Grant nowadays lectures extensively throughout the United States.
Two Monday morning workshops, each beginning at 9:30 a.m. in Pettengill Hall, kick off the King Day: "Pimpin' King, Prostituting X: The Commodification of Black History" by Nishani Frazier, a Ph.D. candidate in history at Columbia University, and "Environment, Development, Justice," by economist Fernando Abaga. Rooms will be announced.
Student debaters from Bates, Morehouse and Spelman colleges will debate the proposition that white women have benefited more from affirmative action than have people from racial/ethnic groups. The debaters will be introduced a t 10:30 a.m. in Chase Hall Lounge, and the debate will begin at 11 a.m. The match has historic resonance for the schools, which share a continuing commitment to collaborative projects.
Founded in 1881, Spelman is one of the nation's most highly regarded colleges for women. The nation's largest liberal arts college for men, Morehouse was Martin Luther King Jr.'s alma mater. One of its longtime presidents was a Bates graduate and accomplished debater, Benjamin Mays, of the class of 1920. Mays was a lifelong adviser to the great civil rights leader and gave the eulogy for the assassinated King in 1968. The 1:30 p.m. keynote address will be followed at 3 p.m. by a second session of five concurrent workshops (at locations to be announced in Pettengill Hall) examining issues relating to civil rights and social justice. For more information about the workshops, call 207-786-6229.
The afternoon's events culminate with a special town meeting entitled "Imagining Community, Immigrants and Neighbors," where the public is invited to participate in an hour-long discussion with a panel of invited guests in Chase Hall Lounge, beginning at 4:10 p.m.
John McClendon, associate professor of African American studies and Amercian cultural studies at Bates, will introduce the program. Panelists include Norm Guay, mayor, Auburn; Jim Bennett, city administrator, Lewiston; Ismail Ahmed, member of the Somali community, Lewiston; and Heather Lindkvist, lecturer in anthropology, Bates College. Rex Rhoades, executive editor of the Lewiston Sun Journal, will moderate the discussion.
The entire King Day observance concludes with a performance at 7:30 p.m. in the Olin Arts Center Concert Hall. From Philadelphia comes acclaimed jazz keyboardist Trudy Pitts with "Mr. C" and friends. Joining them are choreographer Aisha Bell, a Bates senior from St. Louis, Mo., and Bates senior Alake Pilgrim of Trinidad, West Indies, who will perform original pieces for Martin Luther King Jr.'s birthday.
For more information about Martin Luther King Day at Bates, please call 207-786-6229.
View Comments