Classmates Freeman, Chamberlain compete in Nordic World Championships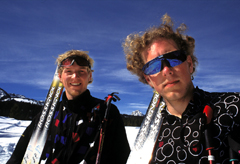 (For race results from the World Championships, go to the U.S. Ski Team site and scoll down to "Cross Country.")
Classmates Justin Freeman '98 and Dave Chamberlain '98 are members of the U.S. cross country team competing in the World Championships Feb. 18-March 1 at Val di Fiemme, Italy. Freeman and Chamberlain join Nancy Ingersoll Fiddler '78 as the only Bates alumni to represent the United States at a Winter Olympics or World Championships.
"This is incredible for our program and for collegiate skiing," said Nordic ski coach Becky Woods. "Justin and Dave were standout student-athletes here at Bates. They are humble, down to earth and set great examples."
The World Championships team, in many respects a precursor to the Olympic team, comprises eight men and five women and all but three have international competition experience. Chamberlain, a Rumford native, competed in the 2001 World Championships while Andover, N.H., native Freeman will be making his first appearance for Team USA, He joins his brother, Kris, who competed in the 2002 Olympics and the 2001 World Championships.
Although being named to the World Championship team does not guarantee selection to the 2006 Olympic team, there is a high probability of seeing Freeman and Chamberlain in Turin, Italy, in three years, Woods says.
"We are so proud to be represented on the World Championships team by Justin and Dave," said Director of Athletics Suzanne Coffey. "These two men are shining examples of what can be achieved when you combine the rewards of a Bates education with the hard work and dedication it takes to be a world-class competitor."
At Bates, Freeman, an honors major in mathematics and physics, and Chamberlain, a mathematics major, earned NCAA All-America honors and participated in NCAA national championships. "It was at Bates where Justin and Dave got to compete and succeed against other colleges that have predominantly foreign rosters," said Woods. "That gave them the realization that they could take it to the next level."
View Comments