Bates exhibition spotlights Chinese documentary photographers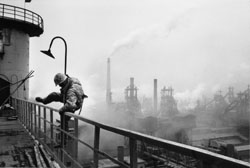 Focusing on the impacts of urbanization and industrialization in China, an exhibition of documentary images by seven Chinese photographers opens at the Bates College Museum of Art on Jan. 9, 2004.
Documenting China: Contemporary Photography and Social Change runs through March 28. The museum is open to the public at no charge.
Gu Zheng, a journalism professor prominent in China's recent documentary photography movement, organized Documenting China in collaboration with the Bates College Museum of Art and the college's Asian studies program. In residence with support from the Freeman Fund at Bates, Gu will teach here during the winter semester.
The participating photographers are:
Liu Xiaodi, a painter by training who shot his "Village" series while he was a student doing fieldwork;
Jiang Jian, director of the photography department at the Henan Institute of Art, Zhengzhou. He specializes in photographing peasants in their homes in central China;
Zhang Xinmin, who concentrates on peasant immigrants in China's cities;
Luo Yongjin, who depicts the city of Luoyang, formerly a grand imperial capital and now a middling industrial city;
Zhou Hai, perhaps the best-known in this country of the seven photographers, thanks to his renowned solo show "Heavy Industries";
Lu Yuanmin, who documents the impacts of China's Reform era on middle class domestic life in the booming city of Shanghai;
and Zhou Min, who offers Shanghai street and nightlife scenes.
Gu is associate professor of journalism at Fudan University, Shanghai, and vice president of the Asian Society of Photographers. He is the author of several books, including The Practice of Modern Photography in the 20th Century (Industrial Publisher, 2002); Chinese Perspectives on Western Cityscape (Liaoning Fine Arts Press, 2002) and The Nude in Retrospect: 150 Years of Photography (Guangdong Traveler's Press, 1999). He has won numerous national photography awards in China, including the prestigious Ministry of Culture Gold Medal.
Gu co-curated the first Asian Photo Biennale, Seoul, in 2002, and chaired the 2001 Yipin International Photography Festival, Shanghai. His doctorate is in cultural anthropology from Japan's University of Osaka.
With offices in New York City and Stowe, Vt., the Freeman Foundation was created by AIG Insurance Company co-founder Mansfield Freeman to promote better relationships and understanding between the United States and the countries of East Asia. In December 2001, the foundation gave Bates a four-year, $400,000 grant intended to enhance and energize the study of Asia and Asian culture across the curriculum.
A color catalog with an essay by Gu will accompany Documenting China. The exhibition itself travels to the China Institute in New York City in summer 2004.
The Bates College Museum of Art is open from 10 a.m. to 5 p.m. Tuesday through Saturday.
View Comments