Bates College presents Shakespeare's 'Hamlet'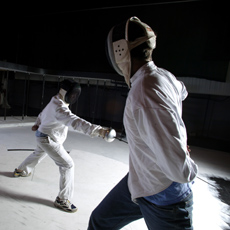 Regarded by many as the best-known play in the English language, William Shakespeare's "Hamlet" is the major fall production of the Bates College theater department.
Directed by Martin Andrucki, the Charles A. Dana Professor of Theater at Bates, six performances of this compelling, complex tragedy will be held in the college's Schaeffer Theatre, College Street: at 7 p.m. Fridays and Saturdays, Nov. 7, 8, 14 and 15, and at 2 p.m. Sundays, Nov. 9 and 16. Admission is $6 for the general public and $3 for Bates faculty and staff, senior citizens and non-Bates students.
For reservations and information, please call the box office at 207-786-6161.
Why "Hamlet," and why now? "I've been meaning to direct it for years," says Andrucki, "and this fall seemed like an apt time, given the reopening of Schaeffer Theatre following extensive renovations." The auditorium's refitting, which ran into the hundreds of thousands of dollars, included new lighting equipment, increased room on stage and improved handicapped access.
"It's also been four years since we've done Shakespeare," Andrucki adds, pointing out that a four-year Bard cycle ensures that every class gets a chance to be involved with a Shakespeare play.
First performed in 1603, "Hamlet, The Prince of Denmark" is a story of loss, treachery and revenge. The plot's mainspring is Hamlet's discovery that his uncle has murdered Hamlet's father and married his mother. But the psychological and narrative complexities that Shakespeare layers onto this simple plot give the tragedy a depth and interpretive potential that keep it in the foreground of dramatic literature even 400 years after its introduction.
Among the leading players are Nathaniel Holt, a senior from New Brunswick, N.J., as the title character; Kevin Weiler, a junior from Anchorage, Alaska, as Hamlet's uncle, Claudius; Brian Pfohl, an assistant in instruction in the psychology department, as Polonius, father of Laertes and Ophelia; David Erickson, a first-year student from Carlisle, Mass., as Laertes; Jocelyn Davies, a junior from New York City, as Hamlet's mother, Gertrude; and Katie Nolan, a sophomore from Gladstone, N.J., as Ophelia.
The lighting design is by Michael Reidy, a member of the Bates faculty well-known for his work in Maine theater. Scenic and costume designs are by Ellen Seeling, assistant professor of theater. Her set, notes Andrucki, "emphasizes the many layers of deception and disguise in the text — plenty of places to play hide-and-seek."
View Comments