Democratic contender Kucinich visits Bates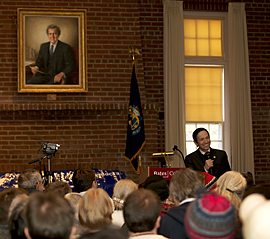 Rep. Dennis Kucinich, an Ohio congressman and Democratic White House contender, stopped at Bates College during his Lewiston visit, Jan. 14.
Rep. Kucinich appeared at Bates at the invitation of the Bates College Democrats. Appearing at the Edmund S. Muskie Archives, at Campus and Central avenues, he offered a 45-minute public address at 3 p.m.
Kucinich followed the Bates visit with a walking tour of Lisbon Street, with stops to chat with businesspeople. The walk began at Main Street and ended at the Maine Peoples Alliance office, on the corner of Chestnut Street. After a brief public statement, he answered questions.
Leave a Reply
This is a forum for sharing your thoughts about the preceding post with the public. If you have a question for the author, please email the Bates Communications Office at communications@bates.edu.