Senior's art transforms Perry Atrium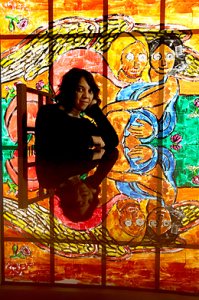 A senior art major's thesis project has transformed Pettengill Hall's Perry Atrium, covering most of its three-story glass wall with translucent paintings that flood this popular space with the glowing colors of stained glass.
"Me and Jesus" is the creation of K-Fai Steele, of Charlton, Mass. Working in brightly colored house paint on large plastic dropsheets, Steele has created a cycle of 22 paintings that explore modern American attitudes about Christ.
The art will be in place through Friday, Jan. 23. Steele will discuss and answer questions about the work at 4 p.m. Thursday, Jan. 22, in the Keck Classroom (G52), Pettengill Hall.
After studying traditional church depictions of Jesus and other Christian figures during a year of study in Rome, Steele returned to Bates determined to find an approach to depicting Christ that would speak to contemporary American popular culture just as the art of Michelangelo or Titian spoke to the culture of 16th-century Italy.
She settled on a narrative style that rendered concepts from Byzantine and Italian Renaissance art in a distinctly American manner: the bold colors and flattened, symbolic images of cartoons. In addition, Steele puts the Christ figure in that most American of stories, the Hollywood boy-girl romance.
"People can project themselves onto cartoons," Steele says, and by putting Jesus into a modern relationship with a sort of Ms. Anygirl, "Me and Jesus" raises all manner of questions about the nature of Christ and the ways in which people relate to him, or don't.
"How do we make sense of Jesus now?" Steele wonders. "And who is this 'me' in terms of Jesus?"
Taking a cue from the traditional of church stained glass, Steele decided to use translucent media in her paintings, which are 10 feet square or 10 feet by 20 feet, and hang them over windows. The paintings cover two of the three tiers of atrium windows, leaving the uppermost tier unaffected. The installation took much of last Friday and involved not only Steele but a crew of student and Facility Services helpers, not to mention a Genie lift — a small cherry picker.
The project is a first for Perry Atrium. With its glass wall affording captivating views of Lake Andrews and the Olin Arts Center at Bates, this three-story space is a popular spot for studying, relaxing and meeting friends. In a testament to the Bates tradition of balancing individual initiative with community interests, Steele made a formal presentation about the installation and asked permission of atrium users to go ahead with it. Permission was granted unanimously.
At the same time, Steele intended that "Me and Jesus" be provocative. "I'm very open to criticism," she says.. "I'd be happier with criticism than no response whatsoever."
Steele's thesis advisor for the project is Assistant Professor of Art Pamela Johnson. The project has received funding from the Barlow Endowment and the Bates Student Research Fund, and has the support of the Department of Art, the Office of the Dean of the Faculty and Facility Services.
View Comments