Bates Squash Center opening scheduled for Jan. 30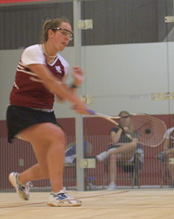 The new Bates Squash Center will be unveiled at an opening ceremony on Jan. 30 featuring the women's and men's squash matches vs. Dartmouth College.
The Bates women's team takes on Dartmouth at 5:30 p.m., followed by a brief ceremony. The Bobcat men face Dartmouth at approximately 8 p.m. The event is open to the public.
The facility, located at 56 Alfred Plourde Parkway, features five international-sized courts. Both the men's and women's squash teams will use the facility for daily practices and matches.
"The feeling of this building is fantastic," says Bates men's and women's squash coach John Illig. "I love the amount of open space, and the sound in here is tremendous."
The new courts are 21 feet wide, standard width for all college squash matches. The converted racquetball courts that the team had been practicing on at Merrill Gymnasium were all at least one foot narrower.
"Squash is a game of repetition, angles and shot patterns," says Illig. "You can't program yourself on one sized court and then compete on another. It would be like a basketball team practicing on a lower hoop."
Despite the competitive disadvantage of practicing on a smaller court, both Bates squash programs have achieved success. In 2003, the Bobcat women and men finished the season 10th and 15th, respectively, in the nation.
The Bobcats have already made good use of the center, as both teams defeated Colby in the first match played at the facility on Jan. 21.
View Comments